Posted on Wed 18 Jan 2012 at 11:17 PM PST. Filed under
Recipes
.
These breakfast muffins are the latest craze in the Paleo community. Reddit's r/Paleo is full of pictures lately with people experimenting with these! The idea is that you can make muffins ahead of time, refrigerate them, and then you microwave some of them for a few seconds in the morning, for breakfast.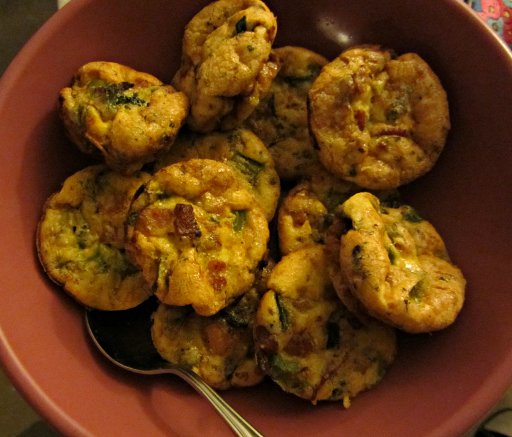 Ingredients (makes 12, 3 gr of carbs each)
* 6 eggs
* 4 slices of bacon, or 2 sausage links
* 1 TBspoon Parmesan or 1/4 cup coconut milk (optional)
* 2 green onions
* 1 tspoon butter
* Salt & pepper to taste
* 3/4 cup (overall) of broccoli, bell peppers, mushrooms, spinach, zucchini… Use whatever fast-cooking veggie you need to get rid of from your fridge
Execution
1. In a big bowl whisk well the eggs, with the optional Parmesan or coconut milk. Then sprinkle salt & pepper to your taste.
2. Either in a food processor, or with a sharp knife, cut the bacon (or sausage links), green onions and vegetables in small pieces. Preheat oven at 350 F (180 C).
3. Place the chopped ingredients in a frying pan and fry in medium heat for 5-8 minutes (until the bacon is done), while stirring often.
4. Take the butter in your fingers and grease well the muffin holders in the tray.
5. Pour the fried ingredients in the egg bowl and mix well. Then, using a ladle, pour the mixture into the muffin holders.
6. Bake for 20-25 minutes until golden brown. Remove from the holders immediately and let cool. Then refrigerate for up to 3-4 days, and each morning microwave for 15 to 30 secs (depending on the microwave unit) the quantity you need for breakfast.