Posted on Fri 1 Apr 2011 at 12:50 PM PST. Filed under
Entertainment
.
I always felt that the actor playing Dr Rush on SGU, Robert Carlyle, had the whole show on his shoulders. Coupled with his controversial actions, Dr Rush is the person of interest for the "meat" of the show (exploration & ancention). He's enigmatic, interesting to look at and listen to, brilliant, determined, driven & focused, but also broken, and intense like hell when he's pissed off. A man with a mission.
Of course I knew this was a strong actor, I was living in the UK the time his star exploded in popularity there, in the second part of the '90s. But it was a single scene on last Monday's SGU episode that made me realize how deep this actor is, and how much value he brings to SGU. In the beginning of the episode we see Rush as his usual cold, pragmatic self, not really caring much if the bomb went off or not back on Earth. But 2/3s in to the episode, we see him rush himself to Amanda Perry, after she has taken over Chloe's body. It's in that scene that we see the depth Carlyle brings into the character:
– While he runs towards her he jumps above some chairs to get to her even just milliseconds faster. There is so much intensity, so much desire in that jumping scene.
– When he gets in front of her, he stops cold again. He's not sure if he wants to hug her or not, in their last encounter he blew her off after all. He's not sure if she's mad at him, or even if it's her really.
– When she gives him the go-ahead, he hugs her, gives in to his feelings, and his whole face and body language shows it. We learn that he's human after all.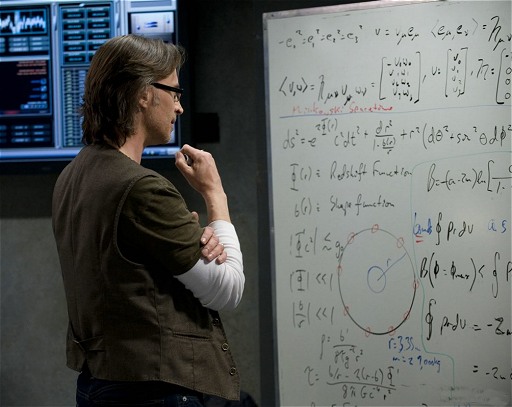 This is the kind of acting that it's up to the actor to think about his role, and improvise on — not to the "director of the week" (most TV shows usually work with different directors each week). I wish the rest of the SGU characters were as fleshed out as much as Rush is, but they're not. Except possibly Eli, a character that all us geeks can identify with, all the rest of the main characters are an unknown quantity:
– I mean, who's Col. Young, really? I don't really understand the man, compared to Rush (who's supposed to be the enigma). Sure we know some of his back story, but I don't feel that I know the man. Actor's fault.
– Chloe is whiny, bland and boring. Part actress, part writers' fault, but possibly mostly the actress'. Unless that was what she was asked to deliver.
– The Lt Scott actor can't act on intimate drama scenes — he only excels on military scenes. When Chloe wakes up with nightmares and he tries to comfort her I felt that I was watching Hayden Christensen on Star Wars: Episode II. Oh, my, God, the terror.
– Sgt. Greer actor is a good all-around actor, but too much of a stereotypical jarhead at times. Writer's fault.
– Wray is the only strong female character in the series, but somehow I find her redundant in the grand scheme of things. Part actor, part writers' fault.
– As for TJ? That was a clear miscast. She has a single face expression: baby-doll. Casting agent's, actress', producer's and writers' fault.
I'm willing to bet that while the writers could have done a better job fleshing out characters, it's mostly the actors' fault for these shortcomings. Look at Adam Brody for example (portrayed by Peter Kelamis). We know nothing about the back story of this supporting character, apart from being a scientist with one-liners. However, I feel that I know Brody more than I know Col. Young. There are key moments in the few times he has a line that make me understand the guy: he's short on temper, he's not taking shit from Rush, he's ready to take hard decisions if the situation warrants it, but he's also goofy at times, and he's generally laid back. And I believe that all this is because the actor himself has sat down, and fleshed out the character himself in his mind. If the writers didn't help, he did the job for them as best as he could with the material he got.
Which brings me back to Carlyle, and his ability to flesh out characters even if key points are not spelled out in the script. I wish more actors were like that. Especially the TV land would be a better place. Carlyle won a well-deserved Gemini award for his portrayal of Dr Rush, for the episode "Human".
After SGU's cancellation Carlyle has now signed on ABC's "Once Upon a Time", a new fairy-tale show that will premiere next Fall. It's a show written by key members of the LOST writing team, so it's got quite some backing from ABC. It's also shot in Vancouver, so Carlyle won't have to move to LA, since he seems to dislike most-things Hollywood.