Posted on Fri 10 Dec 2010 at 4:07 PM PST. Filed under
Filmmaking
.
I was watching the Carson Daly show late last night and I noticed how different their new reporting-style format looks to their old "live" audience-based format. There is very shallow depth of field (something that TV cameras only achieve if they zoom-in a lot), and lots of color grading. So the show now either uses RED Ones, or dSLRs. Unlikely to use HDV cameras with 35mm adapters. Since I counted 5 different cameras in the interview sections, it was obvious that dSLRs were used (five Red ONEs would be too expensive for this show). And lo-and-behold, towards the end of the show, one of the cameramen quickly captured in the frame one of the other cameramen. Their cameras are Canon dSLRs, either the 5D or the 7D.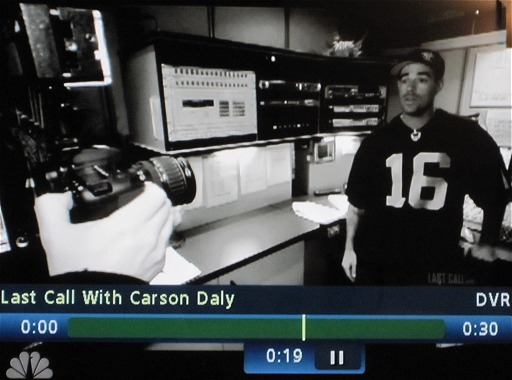 If that was the 7D, I'm thinking that their whole setup (including lights, mics, cams, lenses, tripods, steadycams), probably didn't cost them more than $15000, which is actually a bargain. Then I thought how much it would cost if you'd try to go super-bargain. I think that what the Carson Daly show does in terms of equipment, could be done for $1500. Sure the individual equipment wouldn't be as good, but for someone scraping for cash, a Carson Daly-style show would still achieve a pleasurable look on the cheap too:
For the interview parts:
– Two Canon SD780 IS 720/30p digicams: $390 (on the sides, looking at the subjects). Otherwise, the Canon SD1400 IS is not a bad deal either at $150 each.
– One Canon SX210 IS 720/30p digicam: $250 (looking straight ahead at the subjects)
– Four cheap tripods: $100
– 2×250 Watt lights: $100 (like this one)
– One H4n mic: $300 (invisibly sitting on a tripod, in the middle of the two subjects). Some cheaper recorders that have a 3.5mm mic input cost just $30 (e.g. an Olympus or a Sony one). You can pair the recorder with the $50 Audio Technica ATR-6550 mic that has a tele-mode.
– A clapper: $10 (for audio sync)
(for the monologue, non-interview parts of the show)
– Two shoulder-rests: $90
– Two LED portable lights: $50 (like this one)
– Wearable mic, connected to the H4n: $30
Add some SD cards and extra batteries in there, and there you go, about $1500+tax. Put the cameras to record in custom "flat" mode (at their lowest sharpness, saturation, contrast setting, so you can ensure better color grading in post), set white balance, set and lock exposure compensation, and you're good to go! I bet it will look and sound excellent.
Funnily, the TV screengrab above is the last one I grab off of Comcast. Today I canceled our Comcast cable TV service, going 100% with Netflix, Hulu, and Vimeo on my Roku box.