Posted on Fri 12 Dec 2008 at 12:56 AM PST. Filed under
Hardware
.
Geeks.com, sent over two interesting gadgets for a review, one that geeks will find interesting, and one that videographers will.
* 9″ Axion AXN-6090A Widescreen Portable DVD Player
This portable DVD player comes at the very affordable price of $70. It has a 9″ widescreen but low resolution LCD, and it can play NTSC DVDs. It has AV in/out support and cables, a battery, and a remote control. The device is amazingly cheaply made, the case is probably one of the few gadgets I've ever reviewed that feels so cheap and fake. However, so far, the device has hold together and its software hasn't outright crashed.
There are some buttons on the device itself to control DVD playback, brightness and volume, but you will find more setup and menu options by using the remote control. This means that if you ever lose the remote control, you will lose a large part of options. Regarding compatibility, I found that the DVD player was unable to playback the double-sided DVD "Drowning Mona". It did play single-sided DVDs though. I wouldn't be surprised if the player had trouble reading home-made dual layer DVDs, but I had none to try out.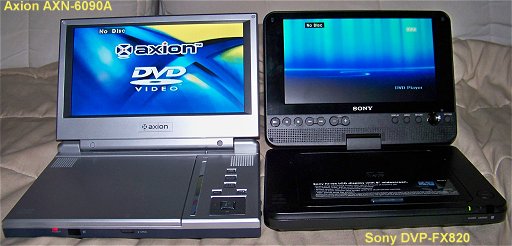 Visual quality is pretty bad when playing back the DVD, as the LCD is low-res. While the video picture itself is manageable (your eyes will probably get used to it after a few minutes), the subtitles are almost unreadable because of the low-res — and that's a real problem.
However, this DVD player can have another, more useful usage: as external monitor on camcorders with 35mm adapters. The player has A/V-in support, so you just connect your camcorder's female AV cable to this player's male AV cable and you are good to go. Many in the videography scene use the Sony DVP-FX820 model that can rotate its screen, and has a high res LCD. However, I found that the difference in visual quality between the two monitors, when using the AV cable, is minimal! Sure, Sony's LCD is still a bit better, but not by much.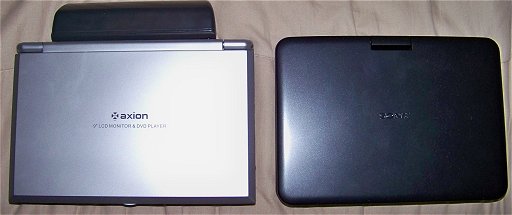 A small problem is the large battery that extend on the back of the device quite a bit. The battery can playback a two-hour movie fine, and can serve up to 3+ hours as an external monitor. A car adapter is included. As for the weight, it's almost the same between the two monitors. Regarding the overscan that screens usually do to the incoming video feed, the Axion monitor "sees" a tiny bit more horizontally than the HV20 LCD does, and about the same vertically. The Sony monitor can "see" much more of the area that's been recorded recorded, both horizontally and vertically.
Overall, this device is pretty bad as a portable DVD player, but if you are a budget-conscious videographer who is handy with tools and can create a custom tripod stand for this device, and doesn't need screen rotation (or you can use rails that mount the camera rotated instead), then this is not a bad deal at all. For $70, the Axion is $100 less than the Sony monitor, so you got to ask yourself if screen rotation, and marginally better battery life and RCA quality is worth the extra cash for you. Geeks also sells some other DVD players that can act as external monitors (with some googling you can easily find which ones have AV-in).
* Bluetooth v2.0 Class 2 Mini USB Dongle
This is my favorite Bluetooth dongle of all times. It's so incredibly small that never looks ugly by sticking out as most dongles do. This small dongle is ideal for those who have netbooks that come without Bluetooth, like the Acer Aspire One and most of the Eee PC models. It's a class 2 dongle, so up to 6 meters reception was good with my Ubuntu netbook. If you own a netbook, or a laptop without Bluetooth, this is a must have!