Posted on Tue 5 Sep 2006 at 12:42 PM PST. Filed under
Mobility
.
Is anyone using a Helio cellphone? I am trying to get their browser's user agent to get autodetected on osnews, but there is nowhere such information. I saw a Helio device at Fry's store on Sunday and its UI was pretty buggy but definitely sweet-looking. It has drop-down menus like normal desktop applications, even if the user interface is softkey-based. Some rumors want Apple working with Helio (though I don't believe them).
Update: I got the info from Helio's support. The user agent is:
Mozilla/4.0 (compatible; MSIE 6.0; Windows NT 5.0; Google Wireless Transcoder;)
Apparently they are using Google's proxy to make ALL the requested pages "mobilized". Which means that all pages, including mobile pages, will look bad on their browser.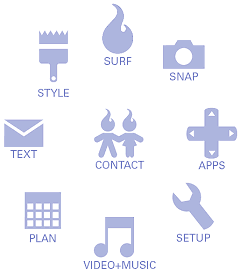 Helio's main menu
Other devices that I am on the look out for their user agents are the Sony Mylo, Archos 604 (with WiFi) and Amp'd cellphones (although I think that these don't have a browser at all yet). Please email me if you have such a device and send me its user agent (which you can find by visiting www.osnews.com/ua.php with your device's browser).