Posted on Tue 22 Aug 2006 at 1:49 PM PST. Filed under
Recipes
.
You feel hungry but you don't want to go over your calorie target for the day? Here's a quick snack/meal that it's really easy and fast to cook, it has enough quantity to stop your hunger and it's only 70 calories. From the original Spanakoryzo (spinach and rice) Greek recipe the only thing that's missing is the olive oil.
Ingredients (for 1)
* 15 gr basmati rice (50 cals)
* 80 gr spinach leafs (20 cals)
* 1/4 of a lemon
Execution
1. Medium-heat 1 cup of water in a pan and add the rice in it.
2. Wash the spinach and add it in the pan too. Squeeze the lemon on top.
3. Cook until most of the juice has evaporated and the rice has cooked through. Serve hot or cold.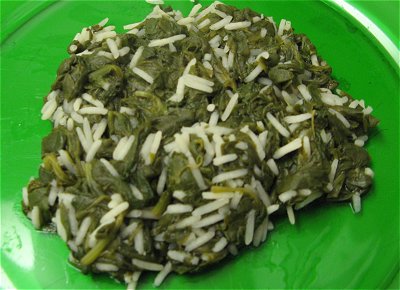 My snack this afternoon…