My friend Vince asked me to write a guide with the best gadget choices right now. I am packing together cellphones, smartphones and PDAs mostly because there are no major PDA-only devices coming out anymore. I also pack together mp3/video/gaming devices, under a generic "entertainment" category. So, here we are:
Best cellphone/pda:
1. Any HTC Hermes-based phone
While a hefty device, it has features, features, features… Only GPS is missing. Shame about the audio output jack though not being standard while their previous model was.
2. Treo 700p
Choose between 30,000 apps, get a 320×320 screen and a good overall phone size. It is not the best in terms of features, but the Treo is cute, robust and much loved. If it only supported WiFi…
3. Nokia E61
A bit buggy VoIP as of now, but overall the best all-around device Nokia ever released. If it only had a standard mini-USB jack, standard audio-jack and A2DP support…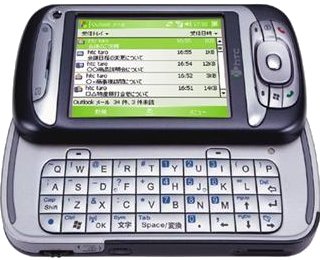 HTC Hermes is sold under many names…
Most of the other good smartphone options are all coming from Nokia: N73, E70, N80, N93 etc. Sorry, no Sony Ericsson P990 in my list. Apparently it's slow, runs out of memory all too easily, it runs clunky software and it asks for your arm and leg before you own it.
Regarding feature phones (not smartphones), the best choices are Nokia's 6280, Sony Ericsson's W810i & K800i and Samsung's D840. I wouldn't go near any Motorola RaZR-based phone.
Best entertainment device:
1. Sony PSP
It can do video and gaming better than most. Its only problem is that it only goes up to 4 GBs of storage for home-video or music. Best choice for gamers and commercial video.
2. iPod Video
Great music, mediocre video experience (small screen), no serious gaming but lots of storage, momentum and a gazillion of accessories. Best choice for music lovers.
3. Archos 604
Best video format support of all, good music, basic-to-no gaming. If you are looking for a true PMP with an amazing video experience, this is your best bet. Only A2DP is missing…
The iPod Nano 4 GB, Sandisk's E260 4 GB mp3 players and the Creative ZEN Vision:M are also great options.
Comments Off

on Guide: Best Gadgets