Posted on Thu 10 Aug 2006 at 6:53 PM PST. Filed under
Mobility
.
I just don't understand why people get RaZR phones. I really don't. Granted, they are thin, although not overall very small (the classic RaZR for example, is pretty wide). More over, the Motorola phones (the ones running their proprietary mini-OS) have the worst user interface than any other cellphone in the market. The most confusing, ugly, unattractive UI is Motorola's.
And yet, these phones account for more than 40% of the US market. Almost everyone has one! From my two favorite actors to Joe and Jane. Why? Why everyone gets this ugly thing? This is something I will never figure out.
However, what I am mostly interested in a cellphone is the web browser. And on top of the problems I mention above, the MiB Motorola browser is an even bigger disaster. It just doesn't render properly anything. Not WAP, not cHTML, not XHTML. The developer must cut corners from all fronts to get this piece of sh*t to work properly.
Anyways, the MOTOKRZR K1 came out recently and Michael from MobileBurn was very kind to send me some shots of the browser rendering osnews (look below). I have to specifically autoredirect the MiB browser to an even simpler web page (about 3 KB of text+data instead of 28 KB) to make it go through. And even then, I get reports that the older, V3i, model doesn't work at all with that (almost validated) page and they can't figure out why: either a specially buggy version of the browser, or Cingular's proxy not allowing this phone to render non-WAP pages… What a freaking mess.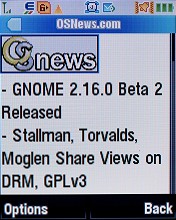 Comments Off

on The RaZR browser disaster