Posted on Tue 11 Jul 2006 at 3:14 PM PST. Filed under
Recipes
.
Everyone loves this classic dish. This version has only 200 calories.
Ingredients (for 1)
* 75 grams of 97% fat free ground veal (75 calories, Vido Veal)
* 30 grams of Ronzoni's spaghetti (100 calories)
* 3 tbspoons of mexican salsa dip sauce (20 cals)
* 1 chopped small onion, 1 sliced garlic clove, a bit of fresh basil or italian parsley (5 cals)
* salt & pepper to taste
Execution
1. Cook spaghetti according to package directions. Drain.
2. In the meantime, in a medium-sized saucepan add all other ingredients (except pasta).
3. Add half a cup of water, stir a few times, and boil in medium heat until the meat is cooked and the sauce is thickened.
4. Serve hot, along the pasta.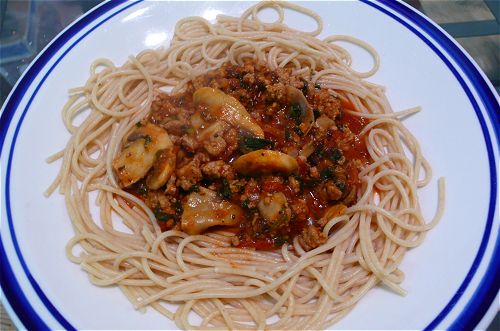 Tip: You can trade 1 tablespoon of salsa sauce for 2 (vertically thinly sliced) button mushrooms. Picture above includes mushroom.