Posted on Sun 1 Jan 2017 at 1:54 PM PST. Filed under
Filmmaking
.
Contrary to popular belief, "Midnight Special" is a spiritual movie, turned sci-fi, turned spiritual again.
Some Q&A, and ***SPOILERS***:
1. Where did Alton come from?
– Alton was conceived & born normally by his parents, as any human has. The fact that he could reach to other dimensions was a product of evolution. His father exhibits the same abilities (as shown at the very end when his eyes shine), but to a much smaller degree. The evolution of human kind to another state of being is teased.
2. Where did the alien structures come from?
– They were not "alien" in the traditional meaning. They were on a parallel Earth (or another dimension), an Earth that had a different evolutionary path than ours. Parallel dimensions are hidden from our awareness under normal circumstances, but the biological evolutionary step mentioned above made it possible for Alton.
3. What were these beings?
– These were light beings. That's where the spiritual part comes in: "light beings" are considered in spiritual circles to be very advanced entities. It's been teased by the movie that that's where humanity's future lies too. Also telling is that Alton is reborn by the sun (the light that gives life to everything in our planet).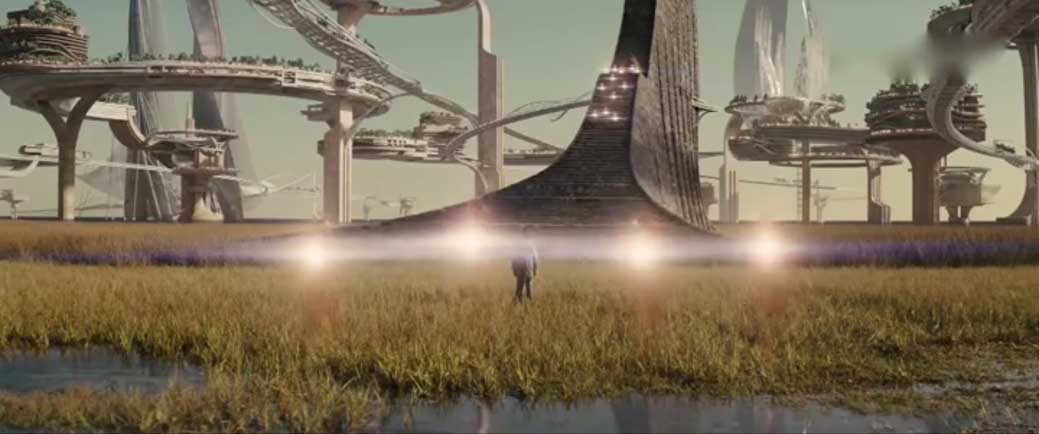 4. What was the point of the movie?
– Alton is a messianic figure, just not in the traditional terms. The cult thought that he was literally a religious figure, while Alton is messianic in a more subtle way: he reluctantly gives a preview to humanity of what lies ahead for them. The movie is about humanity's "first glimpse" of how expansive the Cosmos is. Not just in terms of aliens travelling from planet A to planet B (in the same universe) as all traditional sci-fi movies have been for so long, but also in parallel, and also up and down and inner and outer (in other words, the Cosmos is a web in all directions of different universes and dimensional existences). That's next-level sci-fi. That's the border between sci-fi and New Age spirituality (without the negative baggage that usually accompanies it in the minds of most people).
5. Ugh, so New Age hogwash was the point of the movie?
– No. What people today call "spirituality" is really science that hasn't been understood yet. And since science can't explain it yet, some "faith" might be required in the meantime for those who had direct experience with it. This is why it was so important for Lucas to say "I believe", because after he had his direct experiences with Alton, he made the leap to faith. But belief is to be transcended by hard data, otherwise it becomes dogma, which keeps humanity down. This is what the movie is going for too: the leap from unbelief, to belief, to hard data, and not to dogma (that the organized religion/cult had fallen victim of).
The most telling scene on this interpretation, is at the very end, when Durst is cutting her hair. You can interpret that scene as simply trying to get away from FBI, so she needs to change her appearance. Another, deeper explanation would be though, that Durst's character now is free from religion and dogma. You see, her braids were the same as the women in the cult. Even if she had left the cult, she was still bound by their beliefs for years after. By cutting down the braids, she's now free from such beliefs and dogma, she understands that the cosmos is more expansive, and that said expansiveness is not necessarily "religious" in nature, but rather, "just is".
This was for me the best movie of 2016. The most forward-looking, and the most "edgy" sci-fi movie of them all, by literally moving the needle of sci-fi from caricature super-heroes, monsters, and A-to-B aliens, to a more expansive terrain that's more rich in potential. As an ex-filmmaker myself, that's the kind of sci-fi I always wanted to make too (I'm a meta-psychedelic visual artist now).
6. So why didn't so many people get it?
– It's because most people aren't indoctrinated in such cosmological ideas. Even if Alton did explain it at some point, about a "world on top of ours", that still didn't register with most people. Most viewers needed a way more spoon-fed explanation to get it (and maybe they should have received it, that's a failure of the movie production companies involved to not insist that the director gives it to them).
Additionally, the press' comparison of this movie to the '80s Spielberg movies didn't help at all, because this movie had absolutely nothing to do with these older movies (people went to the cinema expecting something specific and recognizable, and they got something completely different instead). So they found the movie a boring dud, as if without significance, and with a WTF ending. But there is significance in the movie, it tells of a larger world that we will eventually reach one way or another, but that we must have faith until that day comes, when that faith transforms from belief to hard scientific data.
This is not different than if the year was 1870, Jules Verne trying to convince people that one day we will have technology to reach for the stars, or the deeps of the sea, and instead, he gets people thinking he was crazy, or just a "fantasy story without significance". All it needed was some faith in the natural process of technological and/or biological evolution. That's what the filmmaker is asking of you today too.
Comments Off

on What Midnight Special is, and why many viewers didn't get it