Posted on Sat 26 Jul 2014 at 8:56 PM PST. Filed under
Recipes
.
Cauliflower fried rice is the best substitute for Chinese fried rice on low carb and grain-free Paleo diets. Here's a generic recipe for it, but accompanied with hints and tips on how to make the recipe work best. You see, if you treat cauliflower like rice, you will end up with a mushy, cabbage-smelling dish. Following the tips below, will bring your fried cauliflower much closer to the real thing.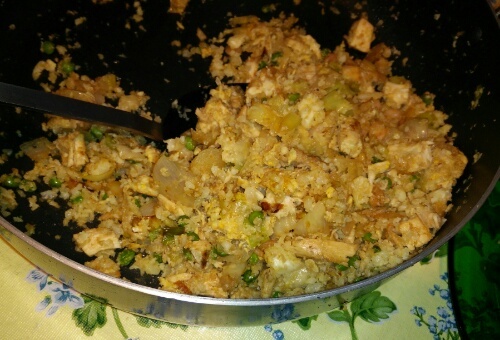 Ingredients (for 2)
* Half a cauliflower head, in small florets
* 2 chicken eggs, or 1 duck egg
* 4 tablespoons of olive oil
* 1 small leek, cleaned and chopped
* 1/2 cup of frozen peas
* 1 cup of boneless chicken, or shelled shrimp
* 1/2 cup of mushrooms, chopped (and/or carrots, peppers, broccoli etc)
* 1 green onion, chopped
* 1 clove of garlic, chopped
* 1.5 tablespoons of gluten-free tamari soy sauce, or coconut aminos
* 1 teaspoon of turmeric (optional)
* black pepper to taste
Method
1. On a small frying pan, with a tablespoon of olive oil, crack an egg on low heat. Using a wooden spoon, swirl continuously the egg, until you achieve a scrambled egg consistency. Turn off the heat before the egg is fully cooked, set aside.
2. On a wok or frying pan, add the chicken (or shrimp), 1.5 tablespoons of olive oil, peas, mushrooms/veggies, leeks, garlic, and black pepper. Stir occasionally. Add the soy sauce. Cook in medium heat until the chicken is done and the leeks have become transparent and soft, and there's no liquid left in the pan. Set aside.
3. Using a food processor and its S blade, add half of the cauliflower in it. Give it 5-6 jolts until the cauliflower has become "riced". Do not make the pieces too small, but it should still feel a bit chunky. Set aside, and process the rest of the cauliflower.
4. On a very large frying pan (I used a 14″) that is not wok-like (but rather it has a flat surface), add 1.5 tablespoons of olive oil, the turmeric (if using), and the cauliflower. Under high heat, fry the cauliflower, stirring occasionally, until it starts to get burned marks and it starts to feel dry.
5. Add the meat mixture in to the big frying pan with the cauliflower rice, and stir. Add the scrambled eggs, green onion, and stir. A minute later, turn off the heat, and serve.
Tips
1. We use a very large, leveled frying pan instead of a wok because woks tend to trap moist. We're trying to get rid of as much moist from the dish, because it's that moist that brings the cabbage smell to cauliflower.
2. We're using leeks because these emulate the sweetness of rice. Without it, the dish comes out a bit flat in taste.
3. Do not process the cauliflower too much, or too much moist will come out of them.
4. Do not crack the egg on the same pan as the cauliflower. While scrambling the egg on the side of the pan works with rice, it doesn't work as well for cauliflower. Same goes for the meat mixture.