Posted on Wed 5 Feb 2014 at 3:02 PM PST. Filed under
Recipes
.
Two years ago I wrote a blog post about the most must-eat Paleo foods with the highest health benefits. Now, it's time for a second part on this post.
1. Baobab dry powder
A staple among the Hanza tribal people (that are often a reference among Paleo dieters), baobab is a fruit similar to coconut. It has blood glucose stabilizing effects among other benefits.
2. Water kefir
This is good for those who can't do any dairy, and so they can't follow my original milk kefir suggestion. Water kefir grains are consisted by about 30 different bacteria & yeasts, compared to 40+ in home-made milk kefir (commercial milk kefir doesn't have more than 12). The only downside of water kefir is the amount of sugar required to ferment. After fermentation for 48 hours, the generated soda drink is 5% sugar, which might not be ideal for some. However, if you're not doing any other type of fermented food, and you want to be drinking sodas, then it's a good drink to have, with lots of probiotic effects.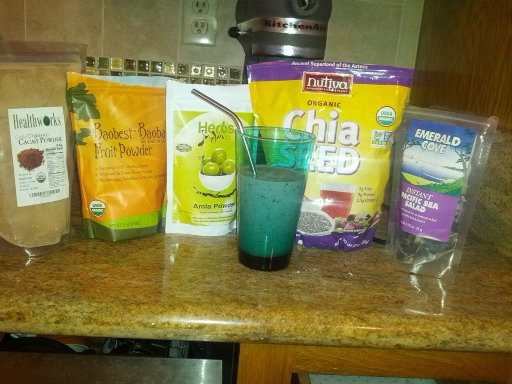 Raw cacao, baobab powder, amla powder, chia seeds, and a sea vegetable mix. I use the four first ones on my goat kefir smoothies, with added fruits.
3. Smoothies & raw food
On Paleo, fruit juices are out because they don't contain fiber. However, smoothies are more acceptable, even if some in the Paleo community still talk against them. The idea is that according to Paleo gurus, we're supposed to eat 2/3 in weight in veggies. Only 1/3 in weight is supposed to be protein, despite what you see on the Instagram #Paleo photos (huge steaks, miniscule amounts of veggies). Dr Wahls (the doctor with multiple sclerosis who overcame her disease with Paleo) suggests 3 cups of sulfur veggies, 3 cups of green leaves, and 3 cups of colorful veggies or fruits a day (as non-starchy as possible). That's a lot of veggies to take down, so to reach such volumes you might need to eat big salads, do smoothies, or make soups.
4. Chia whole seeds & Flax ground seeds
The human body apparently can't transform ALA type of Omega-3 to the useful EPA/DHA fatty acids. However, they do help out a bit in the whole process. I use chia on my kefir smoothies, and ground flax as breading for fish. I prefer flax to almond flour, because almond flour is much higher in anti-nutrients and Omega-6 than flax. These are also particularly useful if you have your own chickens. Chickens can convert ALA to DHA very efficiently, so eating their eggs and meat will be extremely beneficial, since they'll have more a lot more O-3 than conventional chickens (most chickens/eggs, even the organic/free-range ones, are extremely high in O-6).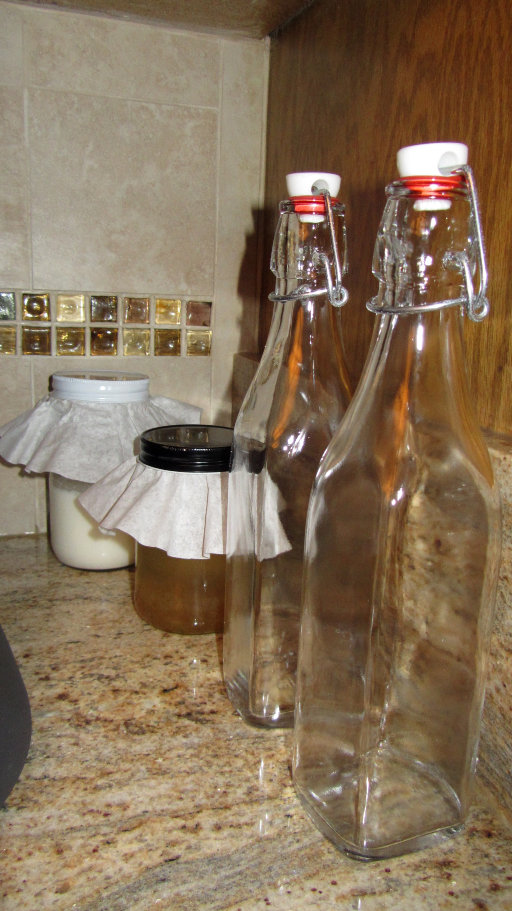 My milk kefir, water kefir, and two soda bottles for my water kefir.
5. Garlic, Ginger and Turmeric
These are the most potent "herbs" you can use in your cooking. Plenty of health benefits and anti-oxidant value. Prefer your garlic as young and as raw as possible btw. Cook with these very frequently!
6. Non-fluoridated water
This might come as a surprise to you, but on Paleo and especially on Paleo-ketogenic you must drink a lot of water. More than usual. But for water to work its magic, it must be spring water — not tap water. It must have minerals in it, no chlorine, but most importantly, it should not have fluoride (apart from a small amount that occurs naturally, rather than being added). Fluoride can't be removed with normal water filters. Fluoride prohibits healing and must be avoided at all costs. Switch to a fluoride-free toothpaste too. It's indeed not very nice that you would have to buy plastic water bottles for your drinking/cooking water, since they contribute to pollution, but the alternative is as grim too. Check on your county's website to see if your water supply has added fluoride in it. In California, they all do, for example.