Posted on Mon 12 Aug 2013 at 1:13 AM PST. Filed under
Recipes
.
This is the Greek version of pork belly, as we prepare it in the Epirus department of Greece. I consider it a more Paleo and healthier alternative to bacon (which is actually processed). My French husband loves it too!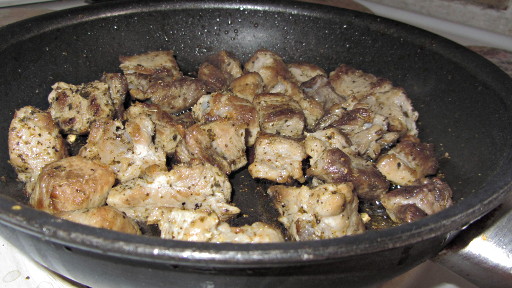 Ingredients (for 2)
* 1 lb (~0.5 kg) of pork belly
* 2 tbspoons of olive oil for frying
* Juice of a large lemon
* 1 tbspoon oregano
* Sea salt & black pepper to taste
Method
1. Wash the pork belly. Using a sharp knife, remove the thick pork skin on the one side (if it was sold as such).
2. Cut the pork belly into 1 inch cubes.
3. Heat the olive oil under medium heat, and add the pork cubes. Fry until cooked-through and golden brown, about 10 minutes. Stir a few times.
4. One minute before they're ready, add the salt & pepper, oregano, and lemon juice. Stir.
5. Turn off the heat, remove the cubes to a plate (without taking much of the oil with you). Serve hot with fries (and tzatziki, if you do dairy).