Posted on Sat 23 Feb 2013 at 4:11 PM PST. Filed under
Recipes
.
Here's the Paleo recipe for fried Razor Clams. They're extremely high in B12 (1400% RDA) and iron (132% RDA). I found them at my local Asian supermarket, in their frozen shellfish aisle (wild-caught). I really liked their taste!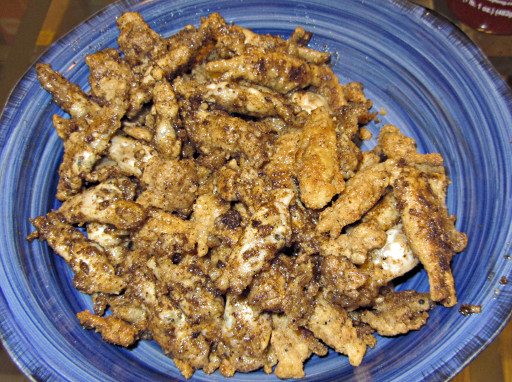 Fried Razor Clams
Ingredients for the main recipe (for 2)
* A packet of frozen razor clams (usually 370 gr)
* 1 cup of fine almond flour
* 1/2 cup of tapioca flour (or more almond flour)
* 1 large egg
* Coconut or olive oil for frying
* 1/2 teaspoon of good, mineral salt
* 1/2 teaspoon garlic powder
* 1/2 teaspoon cayenne pepper
* 1/2 teaspoon of Hungarian or other paprika
* 1/4 teaspoon of black pepper
Method
1. In a bowl, beat the egg slightly. Add half of the spices. Beat the egg a bit more.
2. In a separate bowl, add the rest of the spices. Add the almond flour and tapioca flour. Mix well.
3. Remove the clams from their packet, and run clean, cold water through them in a colander. Strain them softly.
4. Put the clams in the bowl with the egg and mix well.
5. Add a generous amount of oil on a somewhat deep frying pan, under medium heat.
6. Take a big handful of the clams from the egg bowl, and make sure you strain excess egg liquid. Add them to the flour bowl, and mix well until they're well-coated.
7. Fry for ~3 minutes, turning them 2-3 times. Don't overcook them, and make sure they don't turn very brown. Nut flour oxidizes very easily and becomes toxic when browns too much.
8. Remove the clams when done on a clean plate. Add more oil to replace the one that the clams absorbed. Follow step #6 until all the batches are done. You might need to add more flour if you have lots of clams.
9. Serve hot. Use Sriracha hot sauce, or lemon, to add additional flavor. Goes great with a raw green salad.