Posted on Thu 21 Feb 2013 at 1:06 AM PST. Filed under
Recipes
.
This guide shows how to cook animal and poultry hearts, liver, and gizzards in 4-5 different ways. It's very easy, and the variation between all the different ways is small.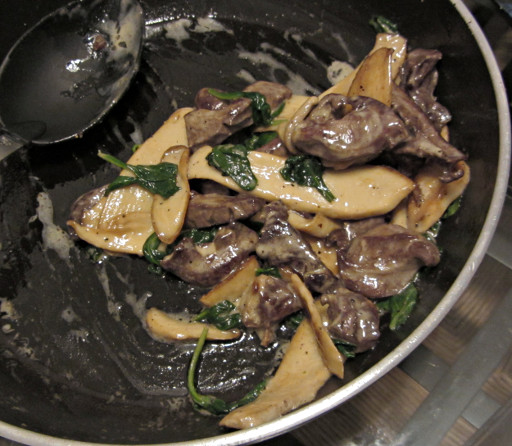 Pork heart with king trumpet mushrooms a'la creme
Ingredients for the main recipe (for 2)
* 400 gr of hearts or liver (from either lamb, goat, beef, pork)
* 100 gr of Eryngii (king trumpet/oyster) mushrooms OR 1 large onion OR 1 bell pepper
* A handful of fresh spinach [optional]
* 2 tbspoons crème fraîche or European style sour cream (probiotic)
* 1 tbspoon coconut oil
* Salt & black pepper (or Hungarian paprika)
Method
1. Cut the hearts or liver in thin 0.5″ vertical slices. Wash them.
2. Wash and cut the mushrooms in vertical stripes. If you're using the onion or peppers instead, cut them as you would onion rings, horizontally.
3. If your heart or liver is from beef or pork, consider boiling it for 30 minutes first, and then discard that water. This will make them less smelly. Young goat/sheep offal doesn't smell bad, so that step is not required.
4. Heat the coconut oil in medium heat, and stir-fry the heart until it's golden brown and almost cooked through.
5. Add the mushrooms (or onions, or bell peppers), and stir-fry them until they get golden brown too.
6. Add the spinach, and stir for 5-10 seconds.
7. Turn off the heat, remove from hot stove. Add salt and pepper. Add the crème fraîche, stir well. Serve hot!
---
Alternative way after step #4 above (Greek style):
5. Add the juice of a lemon, salt, pepper, and 1 tablespoon of oregano.
6. Stir well. Serve with potato, sweet potato, or vegetable fries.
Note: The Greek style version of the recipe is also applicable to pork belly! That's how we eat it in Greece!
---
Alternative way after step #4, for poultry hearts/liver/gizzards:
5. Pour everything into a cooking pan.
6. Chop down a small onion. Stir-fry it for 1 minute.
7. Add 1 cup of tomato sauce (or chopped, fresh tomatoes), and 1 cup of water.
8. Add some chopped parsley, salt, and pepper.
9. Cover, and cook until most liquid has vaporized.
10. Serve with baked spaghetti squash. The picture below shows it with rice, but that's an old picture of mine, before I stopped eating grains. The rest of the recipe is as described though.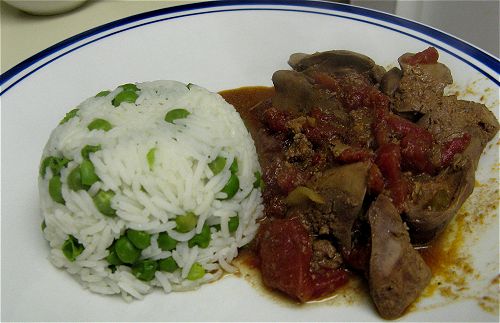 ---
Finally, an alternative way to do gizzards, as a stew, can be found here.