Posted on Mon 18 Feb 2013 at 11:57 PM PST. Filed under
General
.
I'm living in the San Mateo county for over 10 years now. I don't know why it took Paleo/Primal, 1.5 years ago, to find all this amazing food around me. I was always complaining that I can't find this or that in my area (usually sheep offal), but now that I'm actually actively searching, I've found nearly everything that I want. Here are my weekly stops now in San Mateo:
– 99 Ranch: most types of fish/shellfish (compared to 5-6 kinds in mainstream supermarkets, these guys are kings of wild fish and shellfish), frog legs, rabbit, pheasant, quail, squab, duck, (old) stewing hens, pork rinds (snack), pork belly (way better than bacon), duck gizzards, pork hearts, cheap mushrooms, amaranth greens, dried seaweed, avocado, fresh herbs, non-GMO mung bean sprouts (yes, they're Paleo).
– Trader Joe's: kale chips, goat milk for my kefir, organic free-range eggs, cheese, almond meal, organic chicken, berries, cheap bananas, mache salad, nuts, smoked oyster cans in olive oil, grass-fed ground beef, wild salmon cans (go for Alaskan, it's healthier), 82% dark chocolate, fermented creme-fraiche, European style full-fat yogurt (now, that's REAL yogurt), organic sweet potatoes, organic ketchup, mustard, grass-fed butter, spring water.
– Mediterranean shop: lamb/goat meat and offal (the butcher there doesn't know if they're pastured, but most are), Greek Mountain Tea, feta, chestnuts, canned cod liver, spices.
– San Mateo's Farmer's Market: most veggies/fruits, *raw* local honey, pastured beef & bones (pastured offal runs out fast), duck eggs (you must specifically ask for them from the lady there, she has them hidden), French deli, sauerkraut/kimchi, wild forest pig sausage, grass-fed offal/bones from the meat stand.
– Costco: wild sardines cans, seaweed/calamari salads, organic chicken, some wild seafood, coconut oil, (true) olive oil, olives, beef for jerky, gluten-free jerky, bacon, spring water.
– Mollie Stone's: Cheap prosciuto (in bag), cheap bones for bone broth.
– Dollar Tree: oysters can, mussels can (strain their vegetable seed oil, and use them with olive oil in a salad).
– Whole Foods: buffalo steak, organic Tamari, kelp noodles, and some special-interest things that we might need rarely.
– Piazza's: calf's liver (more nutritious than other livers), local soy-free dark chocolate, fruits/veggies on their reduced-price aisle (it's hidden behind the veggie aisle), European-style sour cream (probiotic). Too expensive for anything else.
– Draeger's: Fresh crab, deli meat. Too expensive for anything else.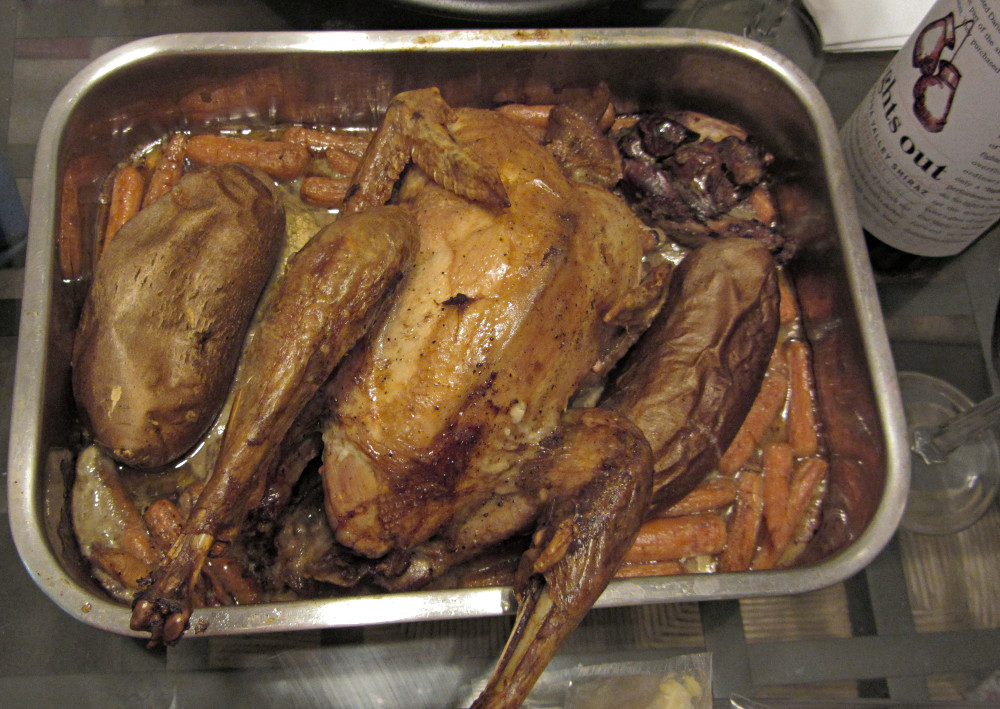 Our pheasant feast last Sunday
The only things that I still *can't* find in my area are: sorrel, purslane, wild greens, wild (bitter) fruits, some types of berries, pastured offal, Saint-Jacques shellfish, deer, venison, more buffalo meat, horse meat, guinea-fowl, boar, antelope, kangaroo, emu, ostrich, turtle meat, insects, larvae worms.
I did find alligator meat at 99Ranch though. Not interested…