Posted on Tue 13 Mar 2012 at 7:35 PM PST. Filed under
Recipes
.
One of my favorite Greek recipes, yuvarlakia, Paleo-ified (with cauliflower instead of rice). If using rice instead, use 1/2 cup of it, uncooked.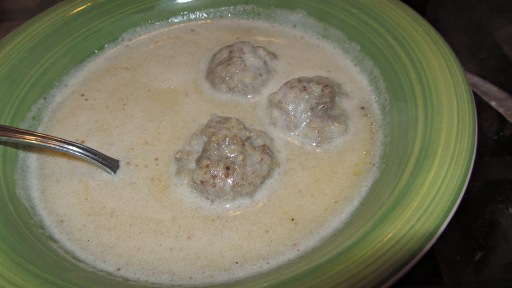 Ingredients (makes 3-4 servings, 4 gr of net carbs each)
* 200 gr of beef ground meat
* 200 gr of "riced" cauliflower
* 1 onion, chopped
* 30 gr butter
* 1 cup bone marrow broth
* 1 large egg, in room temperature
* 1 large juicy lemon, or 2 smaller ones
* Salt & pepper to taste
Method
1. In a big bowl, mix the meat, the "riced" cauliflower, and the chopped onion. Generously add salt & pepper, and using your hands mix all ingredients very well. Then create 2″ diameter meatballs.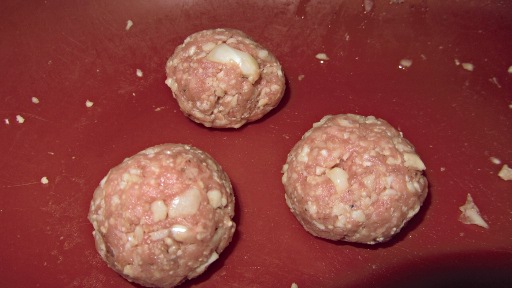 2. Add the butter and melt it under medium heat. Add the meatballs and brown them well on all sides. The secret for the balls to not "open up" while cooking is to brown them well.
3. Add the bone marrow broth, olive oil, and 1.5 cups additional water. Cook for about 20-30 minutes. There should still be plenty of liquid left, since this is a soup.
4. Remove the pan from the heat. Get a deep plate, and put the egg white in it (keep the egg yolk for later, separately). Start beating the egg white with a whisk for 3-4 minutes, until it becomes a fluffy, creamy substance (picture).
5. Add into the plate the egg yolk and beat again for 1 minute or so. The creamy substance should remain. Add the lemon juice in it, and beat again for 30 seconds. It should look like this now.
6. Using a deep ladle, carefully remove some broth and slowly pour it into the deep plate. Keep beating. Make sure the broth is not super-hot, or the egg will cook. Keep bringing broth to your deep plate. Just pour it slowly, and keep beating! It should look frothy (picture)!
7. Pour the plate's content back into the pan, and stir carefully. It should now have a thick sauce! Crack some black pepper in it, stir carefully, and serve hot (gently reheat if required). Adjust lemon/salt and enjoy!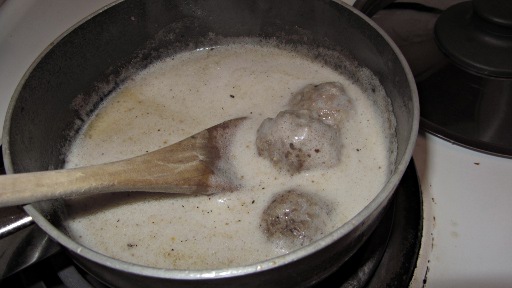 Comments Off

on Yuvarlakia