Posted on Thu 19 Jan 2012 at 12:17 PM PST. Filed under
Recipes
.
This is the Paleo version of Bolognese, using spaghetti squash. We had this last night for dinner and it was really good. Personally I prefer it over real pasta.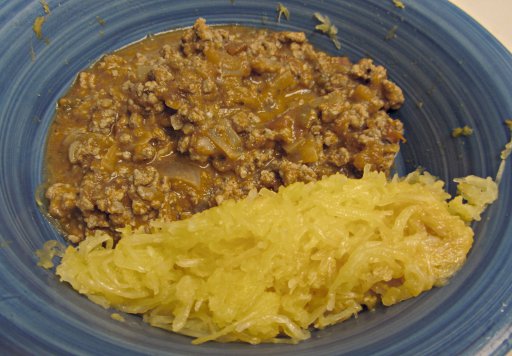 Ingredients (for 4, 15 gr of carbs per portion)
* 1 lb (450gr) beef or veal minced meat
* 1 small spaghetti squash
* 3 medium tomatoes, chopped
* 1 medium onion, chopped
* 1 TBspoon chopped parsley
* 1 clove of garlic, minced
* 4 button mushrooms, chopped
* 1 TBspoon coconut oil
* 2 TBspoons olive oil
* 1/3 bell pepper, chopped
* 1 cup of bone marrow broth, or water
* Salt & pepper to taste
Execution
1. Preheat oven at 400 F (200 C). On a cookie sheet lay some parchment paper. Cut the spaghetti squash in two length-wise with a sharp knife. Using a spoon remove all the seeds found in the squash, and discard them. Using your finger, apply the olive oil everywhere on the inside of the two pieces of squash. Place face-down on the cookie sheet, poke some holes using the knife (so the squash can "breathe"), and bake for 30-40 minutes, until soft.
2. In the meantime, prepare the bolognese meat sauce. In a cooking pan, under medium heat, cook the chopped onion with the coconut oil for 2-3 minutes, stirring occasionally. Then add the minced meat, and cook for another 3-5 minutes, stirring occasionally.
3. Add the garlic, mushrooms, parsley, bell pepper, salt & pepper. Cook for 4-5 minutes, continuing to stirring occasionally.
5. Add the chopped tomatoes, and bone broth or water. Stir, and cover. When all the liquid has evaporated and the sauce is thick, it's ready.
6. After the spaghetti squash is still warm but not too hot to handle, use a fork to "scratch" in it, and remove the spaghetti threads from it. Discard the hard skin. Serve topped with the meat sauce and optionally, grated parmesan.