Posted on Sun 8 Jan 2012 at 5:44 PM PST. Filed under
General
.
When I'm at my local farmer's market I behave like a kid in the candy store. I want a bit of every thing and every variety of it too! Right now my fridge is super-full, and I'm afraid that some of all this food will go to waste. So I decided to make a weekly diet plan that maximizes in nutrients, and also offers a plan for vitamin supplementation that makes some sense based on what's to be eaten any given day. I'm no doctor or a nutritionist, but I've accumulated a lot of knowledge in the last 4 months while trying to fix my health issues through the Paleo diet. Some notes to self: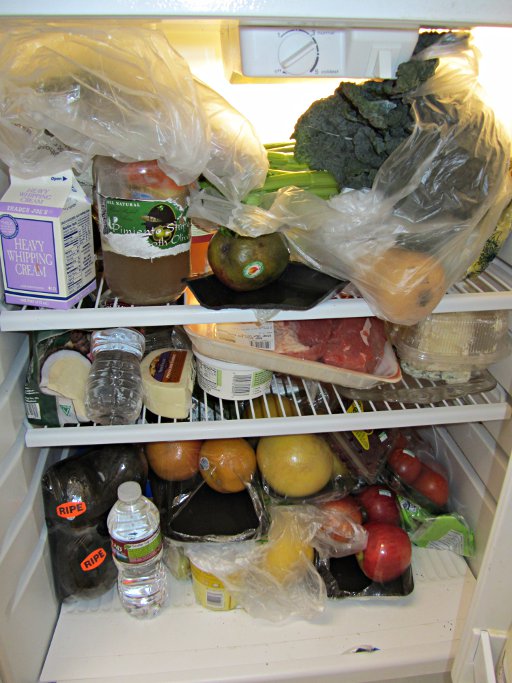 – This is a rough guide for the main courses, there can always be fruits, soups, salads, raw honey, lactose-free goat yoghurt/cheese, nuts, fermented foods etc.
– There's only one pork main dish because sausage/links/bacon/ham would be consumed during breakfast almost daily.
– Beef marrow bone broth would be used extensively. It would almost be a daily companion to most recipes.
– Coconut oil for cooking, extra virgin olive oil for salads.
– Chamomile (morning), Kombucha decaf (tea time), and Greek Mountain Tea (after dinner). Enough water.
– Must prepare my own wakame salad with sea-vegetables (commercial one has wheat-based soy sauce in it — makes me sick).
| | | | |
| --- | --- | --- | --- |
| | Breakfast | Lunch | Dinner |
| Monday | Omelette, D3, multi-vitamin | Leaves, Fish, Calcium | Roots, Offal (liver), iFlora Probiotics |
| Tuesday | Fried eggs & links, D3, Q10 | Squash, Poultry, E-Tocotrienol | Bulbs/Inflorescent, Beef, C+bioflavonoids, Mg |
| Wednesday | Fritatta, K2, Selenium | Brassica, Fish | Leaves, Lamb/Goat, Multi-vitamin, iFlora |
| Thursday | Omelette, D3, Calcium | Roots, Game/Shellfish, E-tocotrienol | Green Mix, Offal (any) |
| Friday | Fried eggs & bacon, PQQ | Nightshades, Beef, Krill Oil | Squash, Pork, C+bioflavonoids, Mg |
| Saturday | Fritatta, Q10, D3 | Sea Vegetables, Fish/Sashimi | Brassica, Poultry, multi-vtamin, iFlora |
| Sunday | Pancakes, PQQ, Krill Oil | Roots, Beef, K2, Selenium | Green Mix, Shellfish, Mg |
I'm also thinking of going ketogenic if my weight continues to refuse going down (although weight loss is not my primary goal, gut health is). In this case, some additional steps are required for a Paleo-ketogenic diet:
– Supplementation with L-carninite 2-3 times a week.
– Never miss the sauted Swiss chard & beet greens twice a week for more Potassium.
– Always use iodized salt, and never miss the sea vegetables.
– Pancakes, honey, and most fruits (except berries) are a no-go in keto… Coconut oil is a must. Fermented foods, more water too.
I have also signed up with Cron-o-meter (free account), where I can approximately find out which vitamins/minerals I might be missing, after I input in the system what I eat daily. Then, I can supplement accordingly.
Comments Off

on A diet plan for a healthier… fridge