Posted on Mon 5 Dec 2011 at 12:35 AM PST. Filed under
Recipes
.
I made this Paleo-modified shepherd's pie dish (aka cottage pie) for our Sunday lunch, and my husband remarked about how good it was. Here's how I made it: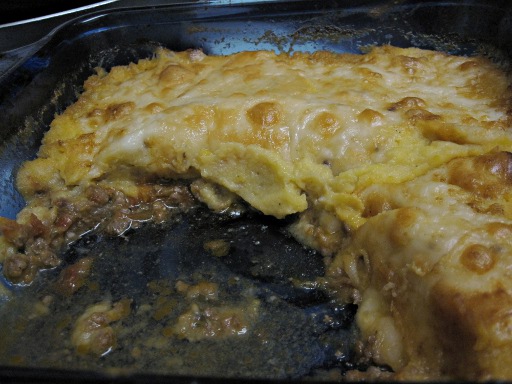 Ingredients (for 4)
* 1 lb (450 gr) sheep or beef minced meat
* 1 medium onion, chopped
* 2 Tbspoons chopped parsley
* 1 clove of garlic, chopped
* 1 small carrot, diced
* 3 medium roma tomatoes, skinned, diced
* 1 cup of bone broth
* 1 large-ish head of cauliflower (preferably the yellow kind)
* 1 Tbspoon of butter
* 2 Tbspoons of coconut milk
* 1 Tbspoon of coconut or olive oil
* 3-4 slices of provolone cheese (optional)
* 1/3 cup of frozen green peas (optional)
* Salt & pepper
Execution
1. Cut the cauliflower in smaller florets, wash it, and boil it for 15 minutes in hot boiling water. Strain it, set aside.
2. While the cauliflower is cooking, warm out the coconut oil in a cooking pan under medium heat, and then add the chopped onion. After the onion has browned a bit, add the minced meat, and keep stirring with a wooden spoon until the meat has started brown itself too.
3. Add the chopped parsley & garlic, diced carrot & tomatoes, salt and pepper, stir well. If you allow green peas in your diet, add them now too (some consider them Paleo, others don't). Then add the bone broth, and continue cooking until all the liquid has evaporated. Pre-heat the oven to 400 F (200 C).
4. Put the cauliflower in a food processor, add the butter & coconut milk, and some pepper. Blend until smooth.
5. Use a 10″ diagonal, deep baking dish, and spread the minced meat mixture on it, leveling it well using the wooden spoon. Wash the wooden spoon, and use it again to evenly spread the cauliflower mash on top of the meat.
6. Spread the provolone cheese slices on top of the cauliflower (optional), and bake for 35-40 minutes, or until it has started to brown. Eat warm. Dish freezes well too.