Posted on Thu 13 Oct 2011 at 10:25 PM PST. Filed under
Recipes
.
I followed up tonight's dinner with a fruit crumble dessert. The original recipe for the crumble was asking for too many unhealthy things (even if it was found in a gluten-free web site), so I had to make changes to the recipe. It came out really good and it was super-easy to make!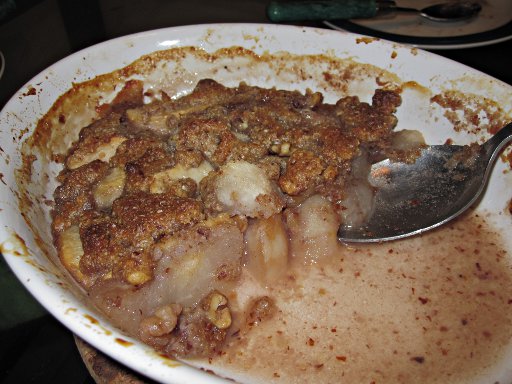 Ingredients (for 3)
* 1 apple
* 1 pear or apple-pear
* 1 peach
* 1 + 1 tspoons of cinnamon
* 1 tspoon of nutmeg
* 1 + 1.5 Tbspoons of honey
* 1/3 + 1/4 cup of walnuts, chopped
* 1/2 cup of almond coarse meal
* 1/4 cup of olive oil or melted butter
Execution
1. Preheat the oven at 350 F (175 C). Peel the fruits and cut in slices. Place them in a small baking dish. Add 1 tspoon of cinnamon and 1 Tbspoon of honey. Pour the 1/3 cup of walnuts. Carefully, mix well everything using your hands.
2. On a bowl, mix well using a fork: 1.5 Tbspoons of honey, 1 tspoon of cinnamon, the nutmeg, 1/4 cup of walnuts, almond meal and olive oil. I went for a batter that wasn't too rigid nor too liquid, but if you prefer it more crumbly add more almond meal.
3. Spoon the "dough" on top of fruits. Use your hands to evenly spread it, but it's ok if it's not perfectly spread. Bake for at least 45 minutes, until the fruit is soft & bubbly, and the dough is nicely browned.
Comments Off

on Fruit Crumble, Paleo-style