Posted on Sun 19 Apr 2009 at 12:51 AM PST. Filed under
General
.
Last night we had this Archer Farms' pizza that JBQ bought at the Target superstore (where he also bought a new bicycle). While I was reading the back of the pizza box to find its cooking time, I noticed the pictured map of Italy and surrounded countries. Suddenly my eyes go to the uppermost right corner of the map, where "Hungary" was misspelled as "Hungry".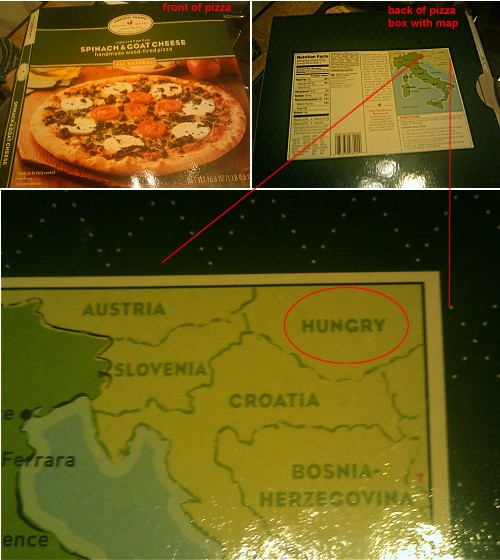 Picture taken with the T-Mobile G1 phone and its autofocus ability.
It was impossible to take the above macro shot with my iPhone!
I crack a smile, and I tell JBQ to look at it too. We figured that we could send the box to Jay Leno for his "funny products/headlines" section of his show. But immediately after I became suspicious that this was a deliberate "mistake". That this is a subliminal message. This was a word that was easily reached by the eyes at that corner, a word that subconsciously was telling you that you were hungry. Hungry enough to buy their product.
Honestly, being one of the geeks, I never liked (or more accurately, I never understood) the marketing bunch of people, and such sleazy practices, in association with other viral campaigns out there, make me really dislike the whole marketing "art". I am a very straightforward person, you see. I could have never worked in marketing.