The Sony PS3 is the greatest TV entertainment device in my opinion, far superior to the AppleTV when it comes to format and resolution support. I have heard people saying that "I want to view my videos on the TV, but I don't want the PS3 because I don't play games". Well, I don't play games either anymore, but the PS3 remains the best device to get your MP4 h.264, WMV, mpeg2, AVCHD, and XViD 1080p videos to playback on TV. The AppleTV will refuse to playback files over 720/25p at 5 mbps. The PS3 can deliver 1080/30p, with bitrates ranging from 20 to 35 mbps depending on the format used. The only major format missing from the PS3 is support for WMA v10, and the MOV container (easily fixed with Quicktime Pro, by re-wrapping the MOV h.264/AAC file to the MP4 container — without re-encoding). Heck, even the $199 XBoX360 is a better deal than the AppleTV when it comes to video performance.
The new firmware for the PS3, released tonight, adds Flash 9 support on the web browser, which apparently, allows Vimeo to playback! Yes, Vimeo videos can now be (kinda) viewed on the TV too. Unfortunately, because of a small javascript bug on the PS3 browser, the browser doesn't understand that there's a flash container in the Vimeo page, and so it doesn't load the video. However, if you instead try to view the video from another web site, like my blog, where a Vimeo video is embedded with simpler javascript, the video plays great! So if the Vimeo staff fix this little problem, we will be able to have full Vimeo support on the PS3.
Proof of Vimeo working with the new PS3 firmware: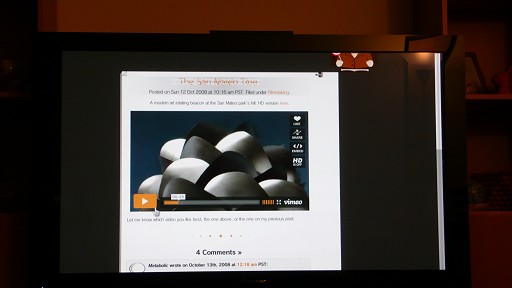 The other thing that I am expecting Sony to fix is Flash fullscreen support. Their new version doesn't go fullscreen for any flash video (not just Vimeo's), while the older Flash 7 version did. I am sure this will be fixed eventually, although they might have removed it on purpose because of speed problems. Nevertheless, the PS3 browser allows you to zoom on a page, so you can fit the video in the whole screen.
Update: Hulu.com works btw in its default 360p mode. It gets slow on its 480p mode, while I get just a black screen on its HD mode. So I guess, when the Vimeo js problem is fixed, we can watch the Vimeo videos in "HD is OFF" mode for maximum compatibility.
Comments Off

on Vimeo on your TV via the Sony PS3