Posted on Wed 19 Mar 2008 at 2:24 AM PST. Filed under
Entertainment
.
A few days ago I mentioned that I watched for the first time "Arrested Development" (AD) at Hulu.com. I decided to watch it not only because it's one of the most watched series at that site, not only because of its extremely high 9.7/10 IMDb rating, but also because I had indeed heard good things about it (some call it the "smartest sitcom ever"). Although, I got to say that when the show was on FOX, I avoided it because it felt cheap to me.
Five days later after re-discovering though, I have finished watching all 3 seasons (hopefully Comcast won't cut us off for excessive bandwidth usage).
The series is sitcom-like, but at the same time very different from your usual Hollywood stuff. The only series that come close to its style are "Curb your Enthusiasm" and "The Office". It's shot with cheap digital cameras (first episodes just used the $5000 DVX100), it has no DOF, it's shot in 60i like most soap operas, and it's cheap, cheap, cheap. But the writing is unbelievably good.
The first season is the best of the three, and every episode is guaranteed to make you laugh loud many times during the 22 minutes of runtime per episode. The second season is not as good, but still watchable, and the third one is a bit of a disaster. That was when it was canceled. However, the first season alone makes up for some of the best television you will ever see in your life. Ok, it's not as funny as "Fawlty Towers", but it's close. I also like that it had a very serialized plot, instead of self-contained episodes.
While watching the series, I kept having this feeling that this kind of "situation comedy" felt familiar. It took me three days to realize that the comedic style of AD is similar to most sitcoms on the Greek TV. It's just that AD does it much better. The writing is unbelievable good, as it has so many references to things or older jokes. Some of the jokes are very subtle, but at the same time very clever that require extra brain power to process. And of course, words like "fuck" are a daily treat, this is not a wussy sitcom.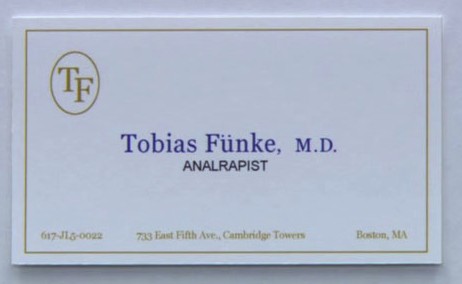 My favorite character in AD is Tobias Fünke, an Analyst and Therapist (his business card's title reads: "Analrapist"). Tobias is a gay man in denial who hasn't come to terms with his sexuality (he's married to a woman).
One day he walks in to that sex shop that he has visited so many times before.
Transvestite Store Clerk: Are you going to actually buy something this time, or are you just curious?
Tobias Fünke: Well, let's just say that I'm buy-curious.
On another occasion, Tobias tries to pick up his (straight) lawyer, Bob:
Tobias Fünke: So, what are your plans for this evening?
Bob Loblaw: I thought that maybe I would stay in and work on my law blog.
Tobias Fünke: Ah, yes. The "Bob Loblaw Law Blog". You, sir, are a mouthful.
Hilarious.