Sony Vegas offers a preset of how to transform your 4:3 footage to a 16:9 one (you use that if you shot in 4:3 but then you decide you want a widescreen DVD instead). Basically, what this preset does is butchering down your footage by removing large parts of the top and bottom of your image. Some directors don't like that, and so sometimes they either stretch the image to fill the screen (looks unnatural), or they use vertical letterbox ("old").
However, there is another way of doing all this, which is the average of all techniques. It involves some cropping and some stretching. This technique is used by Sharp HDTVs. Sharp calls this "smart stretch", and having looked at a number of TVs and how they go about the problem, it is a much better solution to the completely unnatural look of let's say, the Mitsubishi HDTVs. So, we are going to apply the trick below using Sony Vegas.
Open Sony Vegas and create a widescreen NTSC or PAL project. Click on each and every clip on your timeline, right click on them and select "Video Event Pan/Crop" and make it look like the picture below. Make sure all the icons and options are selected/unselected as in my picture. For PAL users, the "width" number should be around "900" and the height should be "576". After you do that, your video will have smaller letterboxing left and right.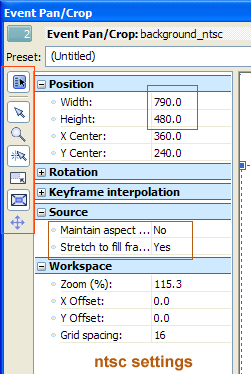 Now, click the "track motion" icon on the left of each and every of your video tracks, and change the following for NTSC: width "790" and height "520". For PAL use "830" and "650" respectively. Make sure the "lock aspect ratio" icon is not selected in the Track Motion toolbar. Then edit as usual and at the end, export using the widescreen DVD template.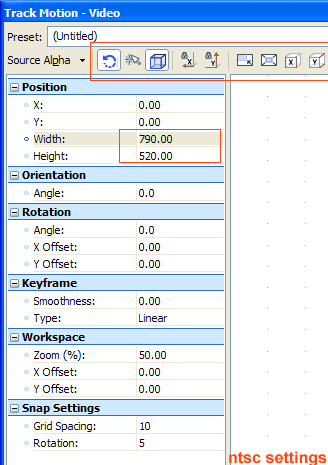 Using the suggested technique the aspect ratio is a bit off, but it's hardly noticeable, and it allows for more visible area. Here are the results of each technique, side by side:
And another sample, showing a real person. A similar technique can be used to export 1920x1080p HD source footage for 2k cinema theaters (2048×1024), for those lucky ones that their indie film was picked up for theater release.