A year ago I published my low calorie smoothie recipe, but here's the normal one. Of course, be prepared to rush to the toilet and pee after you drink all that… 🙂
Ingredients (for 1)
* 1.5 scoops of frozen Sherbet of your choice
* 150gr of frozen fruit chunks of your choice
* 100ml pure orange juice (more as needed)
* A few bits of fresh fruits (optional)
* 1 ice cube
Execution
1. Place all ingredients in the blender. Secure the blender.
3. Start the blender in high-speed, or in its ice-breaker mode (if it has such a mode).
4. If the ice doesn't seem to break, add more orange juice. Blend until smooth, usually about 50 secs.
5. Pour into a glass and enjoy it through a straw. Beware of brain freezes!
Tip: Do not mix many different kinds of fruits. They don't taste bad, but they look like goo!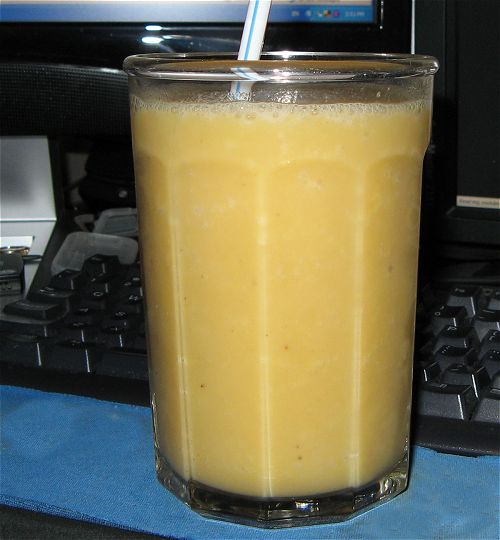 I had this Pineapple smoothie this afternoon, yummy!