Here's how to de-interlace with Vegas your own camcorder video. Do not de-interlace if your target format is recording back to the camcorder tape, but do so for all other target formats (e.g. PC viewing, devices, AppleTV etc). First of all, make sure that your "Project settings" look like this for HDV (use a DV template if your camcorder is a plain DV one, but keep the field order, rendering quality and de-interlace method the same):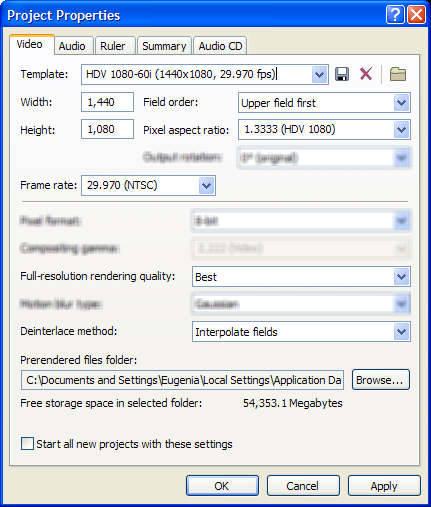 Also, on your Preview Window make sure your setting is at either Preview(Auto) for HDV, or Good(Auto) for plain DV (otherwise you will see interlacing jaggies on the preview screen). Then, edit as you normally would. When exporting, if Vegas' "save" dialog has the "Custom" button enabled, click it, navigate to the "Video" tab and select "None (progressive scan)" for the "Field Order". Please note that not all format types have this option, but .avi and .mov do (and .mp4 on Vegas Pro). The .wmv option does that automatically, so in this case change the "Field Order" back to "Lower or Upper first" before rendering. Then, just render out.
I did several tests with de-interlacing methods and the one that works best for Vegas is the "Interpolate" method. I also tried a freeware open source plugin for Vegas ("Smart De-interlacer") which was not that smart. Stay with Vegas' own interpolation algorithm.