I received the RAZR2 V8 today for a review. My first reaction: they placed an external second screen that's QVGA (see: expensive) and they didn't bother to include a card slot. That's f*cked up. It is also running Linux. That is all.
Update: Oh boy, oh boy…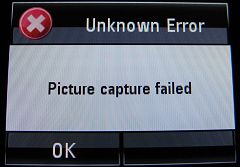 The external screen gives more information about the error: "Current storage device does not have enough memory to capture media". Please note that there is 425 MBs freely available in the phone. That's a buggy firmware version alright.
Update 2: A reboot fixed it…