Posted on Thu 2 Aug 2007 at 6:51 PM PST. Filed under
Software
.
I am preparing a review for the Sony Ericsson W580i soon. The last non-smartphone SE phone review I wrote was last year and since then SE has upgraded their platform. I must say this loud and clear: Sony Ericsson's non-smartphone UI/usability is the best in the industry (their UIQ smartphone platform sucks). Only Nokia is able to be kinda close, but not quite. The worst is of course Motorola's (although their new Linux-based non-touchscreen versions are better than its predecessor, usability is still not great).
While SE has made strides in various usability departments, and the new version of their Walkman software is much better than before, it is still not as good as an iPod. The main problem is that the joystick buttons don't always do the same thing when you are on different screens of the same application. For example, you can hit up or down on the joystick to go to the song list, but you can't go to the main "My Music" page. There is not a "tree" structure UI as there is for the iPods and makes the usage a bit confusing. I thought, how could they not clean that part up?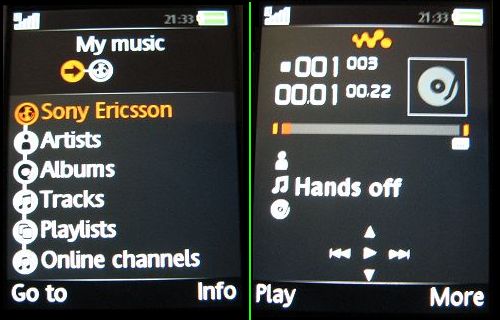 And then I thought: patents. Apple (and others) have patents on the way an mp3 player navigates, and I am pretty sure that SE would be stepping up on these patents to get it right. This is a good example as to how patents are too easily awarded on in this country. It is laughable to have patents for a tree structure UI for an mp3 player. On the other hand, SE needs a spanking in the ass too for not licensing the patent! They preferred to have their Walkman usability suffer rather than pay some dough and make their product better. IMHO, of course.