Posted on Sat 26 May 2007 at 11:45 PM PST. Filed under
Recipes
.
Yogurt is a kind of food that doesn't get enough attention from food blogs or books. It is a very healthy kind of food, but unfortunately, consumers tend to buy the $0.75 jelly-yogurts in superstores rather than the real, "Live, Active and Probiotic Yogurt".
I must admit that when I am on a low-calorie diet I am eating Danon's yogurts that only have 40-60 calories each. But the truth is, I don't like their taste at all — I have trouble swallowing them! Not because they are low-calorie, but because these "commercial-looking" jello-type of yogurts are not real yogurts. They are pasteurized milk with jello and some fruit additives. They suck both health-wise and taste-wise IMO.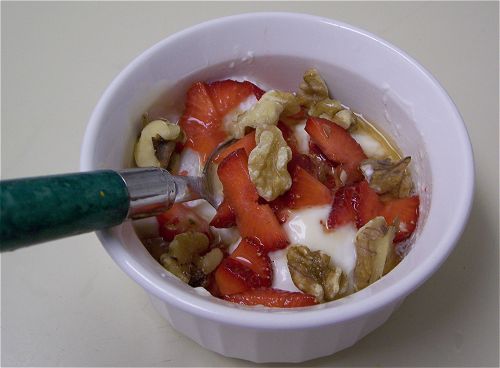 I challenge you to buy some real yogurt, the "live" kind that usually comes in less glamorous big placeholders (yes, they are more expensive). Then, pour some good quality syrup on top of some of it, sprinkle some walnuts or minced fresh fruits too, and then eat it. If you still like the jelly-type of yogurts, then you deserve the diarrhea you get every week by not letting real yogurt take care of your intestines.