Posted on Mon 21 May 2007 at 12:02 AM PST. Filed under
Recipes
.
Ben Mauer was over for dinner tonight (one of the MonoDevelop hackers), so I took the opportunity to also prepare a Greek salad. And it's time to share my big recipe secret for the ultimate Greek salad (aka "horiatiki").
Ingredients (for 2)
* 1 tomato
* 1/3 of a small cucumber, peeled
* 1/6 of a green bell pepper
* 1/6 of the big kinds of onion
* 1/4 feta cheese (~50 grams)
* 6 olives
* oregano, some lemon juice, optionally a bit of salt
* 3 tablespoons of virgin olive oil
Execution
1. Cut the tomato in 6 vertical slices. Cut the cucumber in round, thin-ish slices. Cut the green pepper in thin vertical slices. Cut the red onion in vertical slices (not too thin). Cut the cheese in cubes. Place all above ingredients and the 6 olives into a big salad bowl.
2. Sprinkle with the oregano, lemon juice and salt. Add the olive oil. Mix well.
3. Preferably serve with hot home-made bread or Italian ciabatta. Kali orexi!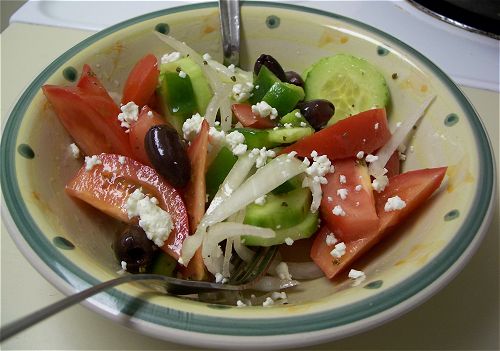 Tip: If you don't have the time to prepare the salad when also preparing lunch/dinner, after "step 1″ you can secure the bowl with a transparent wrap and place it in your fridge. As long as the "step 2″ ingredients have not being mixed into the bowl, the salad's ingredients can keep fresh for up to 5 hours!