Posted on Tue 1 May 2007 at 10:59 PM PST. Filed under
Recipes
.
I call this recipe In-Basil, and it has only one requirement: that you like the basil-garlic taste. JBQ doesn't like it for example, I do though. This version has about 200 calories, depending on the meat or fish used. It is also South Beach Phase-I compliant.
Ingredients (for 1)
* 110 gr of either chicken/turkey breast or white fish (80 to 120 cals)
* 1/2 cup of fat-free vegetable (or chicken) broth (10 cals)
* 60 gr of garbanzo beans (35 cals)
* 10 thin slices of zucchini (5 cals)
* 1 big minced garlic clove (3 cals)
* 1 tspoon minced basil (2 cals)
* 2 button mushrooms (10 cals)
* 6 cherry tomatoes (15 cals)
* 1 shallot (5 cals)
* 0 calorie non-stick spray
* Black pepper
Execution
1. Preheat grill-pan to high heat. Grill the meat or fish of your choice until done. Set aside.
2. Cut the shallot is small pieces. Cut the mushrooms in two. In a saucepan, spray twice with the non-stick spray and bring to heat. Saute the shallot and mushrooms for about a minute. Add the basil and garlic and saute for another 30 seconds.
3. Add the vegetable broth, zucchini, garbanzo beans and black pepper. Stir and let it cook until few tablespoons of sauce remain.
4. Add the tomatoes and stir again. After about 30 seconds place the contents to your plate, but try to keep most of the sauce still in the saucepan.
5. Return the saucepan to the heat and add the fish/meat. Turn over 2-3 times and cook until most of the sauce has evaporated (usually a minute later). Serve hot next to the vegetables.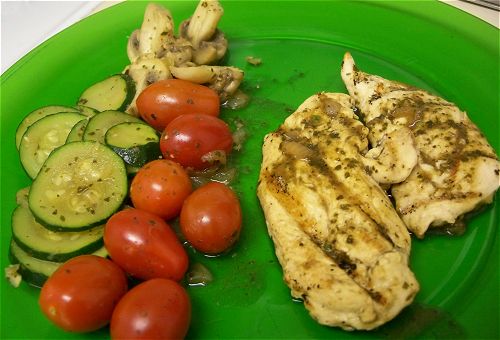 Tip: You can substitute the garbanzo beans with some potato gnocchi if you are not dieting (not pictured). Asparagus is not bad in this context either.
Comments Off

on Diet Recipe: In-Basil