Posted on Sun 29 Apr 2007 at 1:31 PM PST. Filed under
Recipes
.
As long as you don't follow a very-low-carb diet, but instead a low-fat/low-calorie one, this filling vegetarian recipe is perfect for your carb cravings, at just 200 calories. It is adapted from one of Ronzoni's recipe suggestions to fit a low-cal diet. Only requirement is that you should like peppers!
Ingredients (for 1)
* 45 gr of Ronzoni Healthy Harvest spaghetti (140 cals)
* 1 small red onion or shallot, finely chopped (3 cals)
* 1 clove of garlic, minced (2 cals)
* 50 gr of red, yellow and green bell peppers, cut into strips (15 cals)
* 25 gr of frozen peas (20 cals)
* 1/3 tablespoon of cornstarch (10 cals)
* 1/2 cup of fat-free vegetable (or chicken) broth (8 cals)
* 1 teaspoon of finely chopped fresh basil (2 cals)
* 0 calorie non-stick spray
Execution
1. Cook spaghetti according to package directions. Drain.
2. In the same pan you cooked the pasta, spray twice with the non-stick spray. Saute the onion for 30 seconds under high heat.
3. Add the garlic, peppers, peas and basil. Saute for about 1 minute. Add the broth and bring into boil.
4. Add the cornstarch and keep stirring. Boil and stir for a few more minutes, until the sauce is thickened and most of the juice has evaporated.
5. Add the drained pasta into the mix, stir a few times, and serve hot. Enjoy!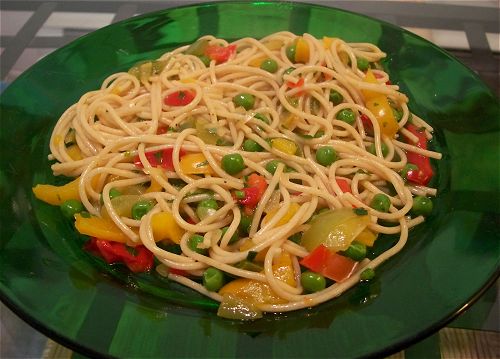 My filling Sunday lunch!