Posted on Tue 13 Mar 2007 at 2:08 AM PST. Filed under
Software
.
Only a few hours after playing with Vista, I resized that partition (Vista now has a "shrink" utility) to 60 MBs and left 40 MBs free for Ubuntu (the rest 20 GBs are reserved by DELL as a recovery partition). So, unfortunately the i810 driver that ships with the current beta of Feisty 7.04 does not support the 1440×900 resolution and in fact X crashes not only in normal mode but also in safe mode! I had to edit the xorg.conf file manually and install the system to the hard disk while using the VESA driver under VGA. After installation Ubuntu found all the Vista partitions and included them in the Grub menu, while after manually changing the vertical and horizontal sync on xorg.conf and installing the 915resolution package I was up and running at the native resolution. However, after installing the updates it seems that Ubuntu has upgraded the driver to the latest i810 driver that actually fixes this problem and does not require the 915resolution anymore. The next hurdle was with the wireless driver, but this tutorial worked perfectly, check the shot! However, it seems that the wifi antenna is not that strong, my "osnews" network only shows 50% strength even if it's in the next room.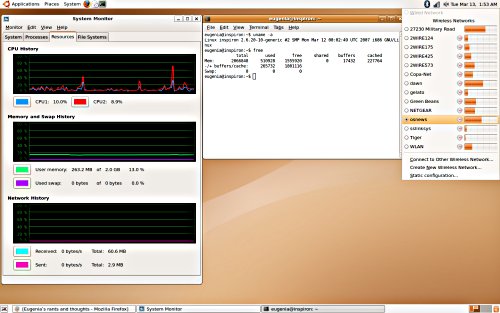 Except the screen problem (which it might be fixed by the final version of Ubuntu) and the wireless problem (which is something that Canonical must both fix and support, as they need to blacklist a module before installing the new module), everything else works like a charm. It's amazing that all the "special" buttons on the laptop work! The touchpad works well too, with wheel support. And what do you know? Suspend/resume works perfectly, including when you close the lid. Battery life *seems* to be around 5.5 hours, while with Vista you can go as much as 6.5 hours.
Isn't that something! I am pretty happy with Ubuntu on that laptop so far!