Posted on Sun 25 Feb 2007 at 10:53 PM PST. Filed under
Recipes
.
One of the best side-dishes you can ever hope to taste in your life, guaranteed.
Ingredients (for 2)
* Authentic feta cheese (not crumbled)
* 1 tbspoon of olive oil
* oregano
Execution
1. Preheat the broiler to become very hot (500F). Place the rack close to the broiler's heat.
2. Cut the feta cheese into a 1 inch thick, long rectangle.
3. Cut a square piece of aluminum foil, fold it in two, and then shape the edges vertically with your hands (in essence, shape it a small oven dish out of the foil).
4. Place the cheese on the foil. Pour the olive oil on top of the cheese and then use your finger to spread it evenly. Pour a generous amount of oregano on top of that too.
5. Place in the oven and broil for a few minutes, until golden brown. Serve hot with (preferably warm or toasted) bread. No need to remove the aluminum foil.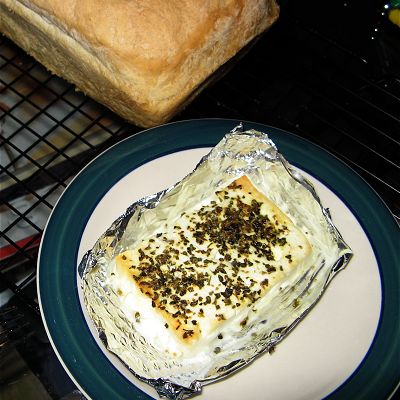 Broiled feta cheese next to hot bread I baked tonight