Posted on Sat 3 Feb 2007 at 6:55 PM PST. Filed under
Recipes
.
We are going to a gathering tonight to see some friends and I thought I bake some bread for all. I went with ciabatta, the popular Italian bread.
Ingredients (for 1 loaf)
For the sponge:
* a bit less than 1 cup of warm water
* 1 cup white flour
* 1/2 tbspoon dried yeast
For the dough:
* 2 cups of white flour (add more as needed)
* half cup of warm water
* 1/2 tbspoon dried yeast
* 10 thin shreds of sun-dried tomato in olive oil
* 1 tbspoon olive oil (plus some for greasing)
* 2 tbspoons milk
* 1/2 tbspoon salt
* 1/3 tbspoon sugar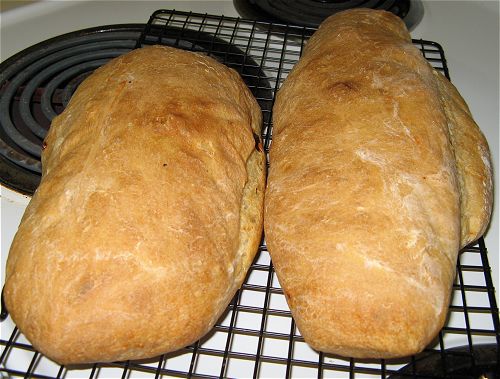 Execution
1. In a big bowl put all the sponge ingredients and mix well with a whisk until it becomes a sponge.
2. Use a plastic wrap to seal the bowl and leave it overnight, or for 10-12 hours.
3. The next day, pour all ingredients into the sponge and start knead it with your hands to make the dough take a somewhat solid shape (make sure that it does not become stiff though). Add flour as needed.
4. In the meantime, turn on your oven at 400F (205C) for about one and a half minutes, and then turn it back off.
5. Add the sun-dried tomato into the mix and use some of the olive oil that is inside the sundried tomato can to spread it in your hands. Then, knead the bread some more.
6. Place the bowl into the warm-ish oven for 1 hour. Let it rise.
7. Remove the dough from the oven and turn on the oven again for 1 minute and then turn it back off.
8. Take a cookie sheet and evenly grease some olive oil on it and then on top sprinkle a bit of flour. Take the dough, place it in the cookie sheet and try to make a rectangular shape out of it. Then, fold it in two and sprinkle on top of it some flour too.
9. Put it back in the warm-ish oven and let it rise for another half an hour.
10. Turn on the oven at 400F (205C) and let it bake for 30-40 minutes, or until golden brown. Remove from oven, place it in a cooling rack.
Note: You can always omit the sun-dried tomatoes if you are not a big fan of them. Additionally, you can also add in the mix some shredded basil or olives.