Posted on Mon 8 Jan 2007 at 5:29 AM PST. Filed under
Mobility
.
A year ago I wrote a review of the most-used mobile browsers out there, and Opera Mini (then at its 1.x version) did not fare well. But today, it has come of age and it's the first application I install on any phone I get my hands on.
The browser is server-side, so in reality, the client is nothing but a dumb displaying application. While this deprives you from the ability to run Javascript/Ajax and any serious level of CSS, the fact that all the CPU-intense work was done elsewhere, it gives Opera Mini the feeling that it's the fastest web browser out there.
Additionally, the HTML is getting tidied before is sent to the client, so in reality, you only download a small fraction of the overall original page size — which is very important for download speeds and GPRS charges. It also makes it easy to scroll pages with lots of links/menus, because its "foldable content" feature will collapse these links. The added RSS Subscription support and the Photobloging ability is very nice. Opera Mini can connect to the phone's camera (if the Java implementation on the phone allows it — not all phones support that) and then snap a picture, and then you can upload it to your My.Opera blog. Check my test photoblog (yup, these are my pyjamas).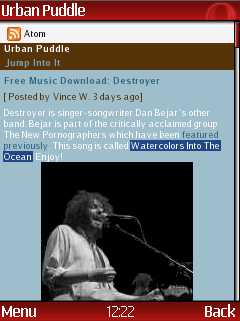 Usability is good, but it could have been a bit better. I love its "small font" ability, which makes browsing pretty usable even on 128×128 resolution screens! I also love that because there is never a horizontal scrollbar on Opera Mini, you can use the left/right joystick keys to move page-up/page-down quickly, while if you long press the # key it will bring up a popup window with shortcuts (e.g. #3 moves to the bottom/up of the page). Another nice feature is the ability to save pictures at various resolutions.
Hopefully, Flickr, email with HTML support (HTML email rendering is one feature that most phones don't have), other blog engine support will be added on Opera Mini 4.x. As a web developer I would like to see 1-pixel table border support and the input form field sizes being respected (currently all form fields are one-size, 100% width). Some fixes on their table code would be nice too.
In conclusion, if you haven't installed Opera Mini on your phone, do so today! If you are afraid of using GPRS because it's too expensive, reading the OSNews mobile page with it is reduced from 28KBs which is normally, down to 7-8 KBs due to Opera Mini compression/tidying. This means that you would never have to pay more than $0.08 to read the full OSNews front page. Not bad, if you consider that GPRS costs $10 per 1 MB and most web pages are huge out there (Engadget and Gizmodo pages are ~1 MB each — unbelievable bloat and that's not just because of the images they use on articles).