Posted on Wed 13 Dec 2006 at 9:59 PM PST. Filed under
Recipes
.
I prepared and baked a pizza tonight. To do this yourself, just:
1. Follow my bread instructions up and to the third paragraph (obviously don't use as much quantity for the ingredients, as a pizza dough is not as big as a bread loaf).
2. Use small tomato chunks from a can, add 1 tbspoon olive oil and some oregano, and boil for a few minutes until most of its water has evaporated. Let it get cold.
3. In the meantime, if you are using mushrooms, cut the mushrooms in thin slices and boil them hard first. Cut some vertical thin slices of a big onion and a green pepper too. In a frying pan add the onion, pepper and the strained mushrooms and lightly stir-fry for 1 minute. You don't want to fry them, you just want to make them lose most of their water and at the same time get softer.
4. Use a pizza stone (this is the big secret to a successful pizza dough) and put it in the oven. Preheat the oven to 400F.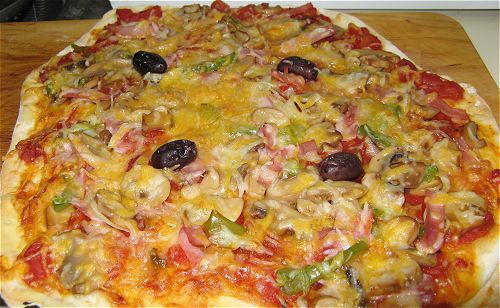 5. Sprinkle some flour on a clean table top and use a rolling pin to open the dough in a shape and size that would resemble a pizza. Sprinkle as much flour as required so the dough is not getting stuck on your rolling pin while you are rolling.
6. Sprinkle some flour on the top of your pizza peel. Transfer the pizza dough from the table on the peel. Use a spoon to spread the tomato chunks/sauce on the top of the pizza.
7. Use your hands to equally distribute the frying pan ingredients on top of the pizza. Add pepperoni or anchovies if desired. If you want to do a chicken pizza, or ham or use other less-dry meats, treat them as mushrooms and hard boil them first (before you stir-fry them along the pepper and onions).
8. Sprinkle with lots of shredded cheese on top of everything.
9. Transfer your pizza on the hot pizza stone in the oven and bake for 15 to 22 minutes (depends how thick your dough is).
10. Remove from the oven, and use a pizza wheel to cut the pizza in triangles. Eat warm.
Comments Off

on Home-made Pizza