Posted on Mon 20 Nov 2006 at 6:48 PM PST. Filed under
Entertainment
.
"The X-Files" were for the '90s what "Lost" is for the present days: a cult phenomenon. My beloved JBQ bought for me yesterday the X-Files mythology DVDs, 60-something episodes that only deal with the "alien mytharc", rather than the "monster of the week" kind of episodes. Very interesting to watch, even if acting was really bad in the first few episodes (it got better afterwards).
It's also interesting to see that the IMDb X-Files forums are filling up a full page in less than a day, while other, brand new TV shows might need 4-6 days to do the same! In other words, it is still a successful show and the reruns are possibly still bring lots of money in.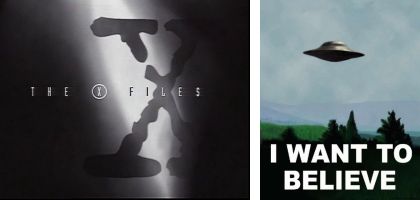 Many are anticipating the release of two more X-Files movies, to complete a trilogy. But I don't believe that this will go anywhere. Duchovny is in a legal spat with the producers over money owed to him while some of the producers who tried to put the thing together don't have a script or even an idea as to where they want to go in the remaining two movies (Anderson says that it won't be an alien-related story, Duchovny said it would be — go figure).
And the real force behind the X-Files, Chris Carter, is nowhere to be seen. It's like he has disappeared from the face of the Earth. He hasn't produced or written anything since X-Files got canceled in 2002. A pretty tragic end with a weak resolution (in its alien mytharc) for such a popular show that shaped the '90s. According to the mytharc, we are still up for alien colonization and hegemony by December 2012 (the end of the Mayan Calendar). The remaining two movies could give a happy ending to all that, but I don't see it happening because the people involved can't get their act together and grow beyond monetary differences.
Comments Off

on The X-Files