Posted on Sat 23 Sep 2006 at 2:49 AM PST. Filed under
General
.
* A new month, a new cellphone. A Samsung D900 is arriving next week. It has a QVGA screen, it's quadband and EDGE, it has a microSD slot, great quality 3.2MP camera with autofocus and macro, Bluetooth 2.0 with A2DP/AVRCP/GAVDP support and even TV-out (but it requires a special proprietary-to-RCA cable that it's very rare to find). Judging from the specs, it's only missing a standard 2/3.5mm headphones port (and maybe FM radio).
* The time that I will have to re-install WinXP is very close. USB just doesn't work properly on this Dell PC for months now. My guess is that a third party driver has screwed up something in the system. If that's not the case then we surely looking at a hardware problem, which can cost me $1200 to get a new PC. I am not looking forward to any of that.
* We had a great time tonight as a friend visited us, we had loads to eat and drink (I grilled some beef steaks) and then we watched Metallica on DVD playing together with the San Francisco classic orchestra! Great combination of music. This reminds me: we need to buy a new DVD-stand this weekend, we are out of storage space on our existing ones.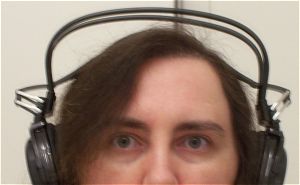 * My MDR-XD400 Sony headphones arrived! I look like a complete dork with these on but, boy, do they sound good! Great buy at $70 (on amazon). Highly recommended. Ignore the laughable looks!
* I received a product today for a review that doesn't quite work as advertised. I hate it when I receive these, they bring me in a difficult position. Hopefully they will send me the missing cable so I can actually review it properly.
* And then, I had a well-known book company sending me a second set of the same books they sent me 3 months ago for a review. Hmm…
* I watched "Six Degrees" last night on ABC (created by J.J. Abrams of "Lost" fame). Abrams obviously tried to exploit the fact that many "Lost" viewers love that during flashbacks the lives of the heroes are inter-connected, even if they don't know it. So he comes in and creates a brand new TV show based on that premise alone. And it sucked.