Posted on Fri 15 Sep 2006 at 5:50 PM PST. Filed under
Entertainment
.
I have been a fan of Madonna since I was 12 years old, around the time of "Like a Virgin" which was the first song that made her known in Greece in early 1985. I remember watching her on the ERT-1 "Mousikorama" TV show for the first time on a Friday night and I was still talking about it all day at school on Monday…
Back then Madonna was getting lots of sh*t, way more than what she gets now. Many conservatives (e.g. my father for starters) despised her and were saying that she's just a shooting star and that soon no one would remember her name because she is not a real artist. Madonna back then was attacked by the media regarding her artistic abilities the same way (truly untalented) boy bands are attacked today. Madonna has made it through though even after truly questionable business choices like her "SEX" book in 1992. She has proved to be the real queen of pop and re-invent herself to "fit" in each music era.
Especially her recent albums, after her spiritual re-awaking through Kabbalah and the birth of her first child, are extremely artistic and some of the songs are pure gold. Personally, I divide Madonna's career in three phases:
1977-1985: The "old" Madonna, up to the "Like a Virgin" tour. The dance-pop icon that teenage girls loved.
1986-1997: "True Blue" up to "Evita": the arrogant but always professional Madonna lives to shock.
1998-now: "Evita/Ray of Light" up to now: new religion, two kids & a good marriage, more mature.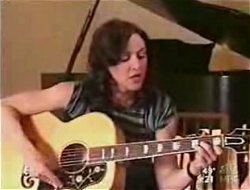 Today I stumbled upon a great video of hers on youtube from a live TV show in 2003. She plays the guitar & sings and looks nothing the Madonna most people know of. Even if she is not the greatest singer in the world, she is way better than some pop-idols that can't even read english, let alone music notes. Madonna can play the piano, drums and guitar — all mediocre, but good-enough to get her through on what she needs to do. Have a look at the video, it's really amazing.
And one last thing, regarding Madonna's most unappreciated song, "Sky Fits Heaven". Amazing song and melody, too bad it was never released as a single so relatively few people know about it. Click on the link above to listen a 30 second sample of it on iTunes. That song was recorded around the time that Madonna had to endure vocal training (it was part of her contract for the Evita movie) and so her singing abilities on that whole "Ray of Light" album is a notch above than any other of her albums. Even on her subsequent albums she can't sing as high, because as you know, vocal chords are muscles and if you don't do vocal training all the time, you lose the ability. She still trains her other muscles though…
"…Isn't everyone just
Traveling down their own road
Watching the signs as they go
I think I'll follow my heart
It's a very good place to start…"
If something happens to her before her time (e.g. Soyuz blows up on her way to the Space Station in 2009
) and her record label decides to release a new single, tribute to her, I am sure "Sky Fits Heaven" would be the perfect song for that job, not because it is "very listenable" but also because the lyrics are very representative of her life. Not that I want anything bad to happen to her, mind you, I hope she has a long and happy life. I am just thinking too much of Elvis and Freddy Mercury here, in terms of legendary figures in the world music scene that unfortunately died too early…