The idea is not new. It existed for over 20 years, but right up until now we didn't have the right technology to materialize it into a practical product. The first "usable" video glasses products were released just last year (there are about 5-6 such products in the market today), but they all have their own share of limitations: others only sported QVGA screens, others were simulating only up to 30″ TV screens, others would only work with the iPod…
But this technology is maturing fast, it won't be long before PMPs & cellphones will have mini-HDMI outputs. At around 2010 expect to experience HDTV-quality video on a simulated 80″ widescreen, in front of your eyes. It's the next logical step in "personal" entertainment and I would not be surprised if Apple jumps to create such an iPod companion accessory.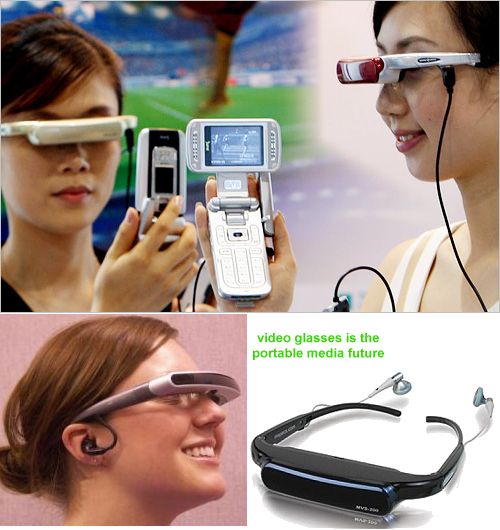 The Bluetooth consortium has also created a profile about remote video viewing, called GAVDP, but being the slow-ish wireless protocol it is, it comes with limitations of quality and video dimensions. Still, a good alternative for those who hate cables…
The only problem I have with the whole idea is that I don't like watching movies alone. If my JBQ is not next to me, I just don't feel like watching TV or going to the cinema… And these video glasses take the "personal" entertainment to even more personal levels than current PMPs do.
Let alone that if you use video glasses on a bus, you might miss your stop.