Posted on Sat 5 Aug 2006 at 10:13 AM PST. Filed under
Recipes
.
This is a recipe with white beans, the westerners' way. The Greek way does not incorporate sausage but has olive oil instead. This variation has about 200 calories.
Ingredients (for 1)
* 40 gr raw white beans (130 cals)
* 1 soya sausage (50 calories, found at Safeway's vegan aisle)
– or, half of a low-calorie sausage (60 cals)
* 20 gr carrots (6 cals)
* 30 gr celery (4 cals)
* 2 tbsp tomato salsa (10 cals)
* 1 shallot
* black pepper
* salt
* 1 tbspoon of olive oil (optional, 120 cals)
Execution:
1. Put the beans into plenty of water overnight.
2. In a pan add as much water as the instructions of the packaging suggests for 40 grams of beans (each kind of beans is different so we can't suggest an arbitrary amount of water in this recipe). Add the beans in the pan, cover it and simmer in medium heat for as long as directed in the packaging.
4. About 15 minutes before it's ready, slice the carrots, celery, onion and sausage. Add them into the pan along some salt and the 2 tablespoons of salsa tomato. Sprinkle some black pepper. Add 1 tbspoon of olive oil if you are not dieting.
5. Stir a few times, make sure the beans are cooked through (add some water if they aren't, and simmer some more). Serve hot.
Tip1: If you can't find that soya or low-calorie sausage at your place, try to get some 97% fat-free Farmer John's ham instead. Use 56 grams.
Tip2: If cooking beans is too much of a hassle, buy some white beans in a can. In that case, don't add any salt and don't cook for more than a few minutes.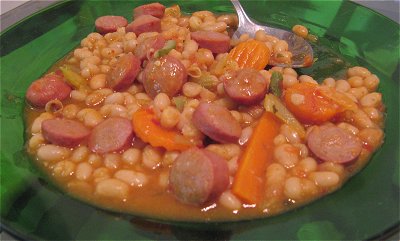 From my lunch today…