Posted on Tue 1 Aug 2006 at 5:41 PM PST. Filed under
Recipes
.
Hehe, let's see if you can pronounce that recipe name. If you can't, you can also call it "zucchini and potatoes bake". As always, this oil-free recipe is 200 calories. This one also happens to be a vegeterian dish.
Ingredients (for 1)
* 1 large tomato (30 cals)
* 150 grams zucchini (20 cals)
* 155 grams of a peeled potato (145 cals)
* parsley, onion and garlic (chopped, 5 cals)
* salt, pepper, oregano
Execution
1. Chop the tomato in small cubes and place it in a pan.
2. Wash, then cut the potato and zucchini in thin oval slices. Place them in the pan too. Preheat the oven at 400F (200C).
3. Add 1.5 cup of water along the rest of the ingredients. Boil in high heat for 3 minutes, stir a few times.
4. Place all pan's contents in a small oven dish. Bake until most of the water is evaporated, the sauce is thickened and the veggies are cooked through. Serve hot.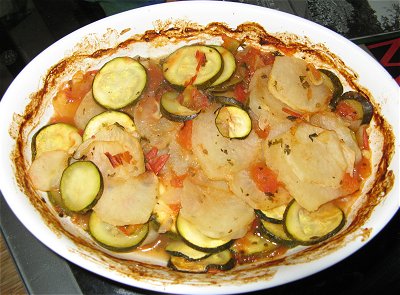 This was my dinner tonight. Believe it or not, all this food is just 200 calories!