Posted on Sun 30 Jul 2006 at 3:10 PM PST. Filed under
Recipes
.
Youvetsi is one of my favorite Greek recipes. My mom cooks it way better than I do, but when on a diet you gotta cut out the fat (her secret is that she pours a lot of olive oil and salt in it while she lightly fries the meat before boiling). This version has 200 calories and while it is not as yummy as the real thing, is actually healthier.
Ingredients (for 1)
* 30 grams of Misko Orzo pasta (100 cals)
* 80 grams of fat-free sirloin veal or buffalo (75 cals)
* 100 grams of pure tomato purree (20 cals)
* 1 onion, some fresh parsley, 1 clove of garlic (5 cals)
* salt and pepper to taste
Execution
1. Remove any fat, wash and cut the meat in 3 bite-size pieces. Finely chop the onion, parsley and garlic.
2. In a pan under low heat, add the meat, tomato purree, onion, parsley and garlic, along with 2 cups of water. Add the salt and pepper, stir and let it slowly boil for at least 1 hour.
3. In a small (personal-sized) oven dish pour the orzo in. Preheat the oven at 400F (200C).
4. Pour the pan's contents onto the oven dish. Add as much water as needed up almost to the height of the meat. Stir carefully once and place the dish in the oven.
5. About half an hour later the water must have evaporated, the sauce is thickenend and the orzo is cooked through. Serve hot.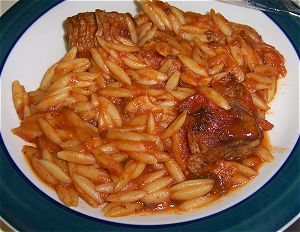 From our Sunday lunch, earlier today…