Posted on Mon 24 Jul 2006 at 4:47 PM PST. Filed under
Recipes
.
This 200 calorie salad is one of my very favorites whether on a diet or not. Highly recommended, especially if you like "insects of the sea" as a vegeterian friend of mine calls all shellfish.
Ingredients (for 1)
* 120gr shellfish with the shell removed: shrimp, calamari rings, scallops, mussels and maybe some baby-octopus (90 cals)
* 130gr of drained Westbrae Natural organic salad beans (100 cals, found at "Whole Foods" store)
* 1 tbspoons of Kraft's fat-free Zesty Italian salad dressing (8 cals)
* 1 tbspoon of a lemon juice (2 cals)
Execution
1. Boil and cook through the shellfish for a few minutes. Drain and let cool down to room temperature for 5 minutes.
2. Wash the beans and drain. In a salad bowl then place all ingredients and mix well.
3. Place in the fridge for 15 minutes. Serve cool.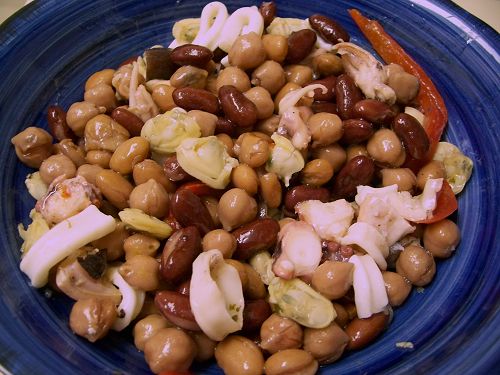 Tip: If you can't find in your area a bean salad in a can, you can cook the beans by yourself (it won't be 130 grams uncooked though, you will have to calculate the calories & quantity by yourself in that case). You can use pinto, chickpeas, kidney, black & red beans.