Posted on Fri 26 May 2006 at 12:55 AM PST. Filed under
Software
.
Some say that I don't like Linux, which is not true. The truth is, Linux doesn't like me. All its possible bugs, it offloads them to me. Naturally, we have a very weird relationship all these years because of this.
The latest bru-ha-ha, I experienced tonight when trying to install SuSE 10.1. I downloaded the official DVD ISO (4 GBs or so) and installation went well in the beginning, but afterwards it would complain that there is no CD 1. Even after manual installation was invoked, the OS would complain that there is no CD 1 inserted. Crazy stuff.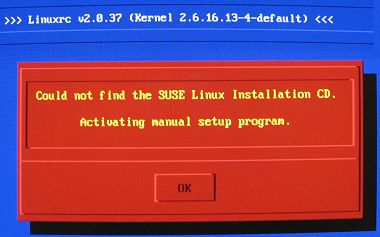 At the end, I filed a bug report (yet another Linux-related bug reporting account I had to create — I lost count and it is getting out of hand and I am getting pissed about it). I also had to use the nolapic kernel option to force SuSE to work with my twin-optical drive system (other distros have no such problems). In my opinion, the best installation routine has Fedora/RHEL. It works, it is consice, it is powerful and it is usable. SuSE's was always a piece of shit, especially the partitioning and YaST package screens — terrible usability and bugs arising out of the blue. Now that Red Hat embraced Mono, Novell should do the same with Anaconda. It would be to their advantage.