Posted on Wed 12 Apr 2006 at 3:31 PM PST. Filed under
Recipes
.
The ultimate Greek fast food: pita with gyros & pita with souvlaki. Preparing some gyros meat requires special equipment though, so the recipe below will show you how to prepare pita souvlaki. Please note that the recipe below is the authentic pita-souvlaki wrap and not the Turkish 'donner kebab' variation (an issue that I have discussed here).
Ingredients (for 1)
* 1 slice of pita bread
* 1 souvlaki (recipe)
* 1 tablespoon tzatziki (recipe)
* 3 french fries
* 1/4 of a small tomato (sliced vertically)
* 1/8 of a big onion (sliced vertically)
* 1 tablespoon of olive oil
* A bit of paprika
Execution
1. Prepare the souvlaki as shown in the linked recipe. Set aside in a plate and keep warm.
2. Fry the french fries and keep them warm.
3. Pour a bit of olive oil in a frying pan and fry the pita bread on both sides in low heat. Heat and fry until the pita is a bit brown, but don't over do it, the pita must remain soft.
4. After the pita bread is ready and hot, remove it from the pan and surround it with some plastic-coated paper (or foil) and place in it the souvlaki (remove the wooden scewer by pulling it away from the pita that you hold securely and strongly around the scewer with your other hand).
5. Add on top of the souvlaki the fries, the tomato, the onion and the tzatziki. Pour a bit of paprica in the mix.
6. Wrap the mixture with the edges of the pita bread and secure it with the coated paper (must look like this or this). Add a napkin around it. Kali orexi!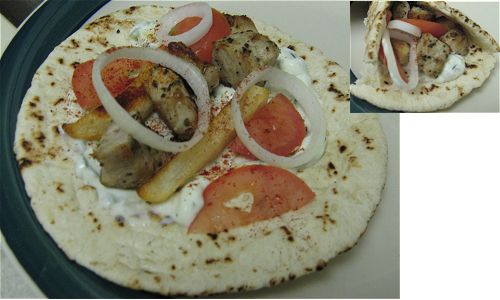 Tip1: Don't use fork and knife to eat this because each bite must include all ingredients. You simply grab the pita and start eating (it is surrounded by the paper and a napkin around it to hold it together and secure it from dripping on your clothes
)
Tip2: Some people don't like onion in their pitas. Omit it if you don't either.
Tip3: You can accompany the pita-souvlaki with some more fries, aside on your plate. It doesn't make sense to fry just 3 french fries anyway.