Posted on Mon 26 Oct 2015 at 9:16 PM PST. Filed under
Recipes
.
As I'm moving towards a Pegan diet (Paleo minus too much red meat, plus beans), I feel that some occasional bread (e.g. once a week) could have a place in my diet. This is a recipe with the least bad ingredients in it: no grains except rice, and no gums.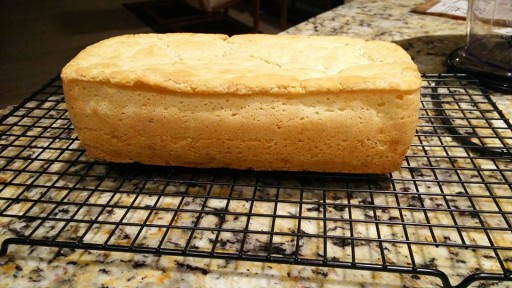 Ingredients (makes a 1.5 lbs loaf)
* 1 egg
* 2 tablespoons olive oil
* 1 cup warm water (or more, as needed)
* 1 tspoon brown sugar
* 1 tspoon salt
* 1 tspoon baking soda
* 2 cups rice flour (white or brown)
* 1/2 cup tapioca flour
* 1/2 cup potato starch (not flour)
* 3 tspoons gluten-free active dry yeast
* 2 tspoons psyllium husk (optional, used for binding)
* 1 tspoon nutritional yeast (optional)
Method
1. Turn on your oven at 400 F, and let it get warm, for 1-2 minutes. Turn it off.
2. Mix all the ingredients with clean hands, or a hand mixer, and knead/beat them. The dough must be very loose, almost like a batter. Add more warm water if needed.
3. Place the batter/dough in a baking pan, and in the slightly warm oven. Let it rise for 1 hour.
4. Turn on the oven at 375 F (290 C), and bake until the bread is browned (depending on the oven, it will take anywhere between 30 to 50 minutes).
5. When done, remove from pan, and use a cooling rack.
Notes:
1. The psyllium husk is used as a substitute to various gums (like xanthan gum, which is known to create health problems). Psyllium husk adds fiber into the bread.
2. The nutritional yeast will add B1 vitamin to the bread, a vitamin that most gluten free dieters easily get deficient on (wheat flours come enriched with B1).
3. Eating the bread cold, will help you get more "resistant starch" (that comes primarily from the potato starch). That type of starch isn't digestible (so it doesn't make you gain weight), and it's food only for the good gut bacteria. That starch is only "resistant" when it's cold.