Posted on Mon 5 Oct 2015 at 1:28 PM PST. Filed under
Recipes
.
How to eat healthily, and with great diversity, without having to know more than 2-3 basic recipes? This is a guide for just that. The recipes are based on Chris Kresser's version of Paleo (fermented dairy, potatoes, and optionally, white rice and some beans, are allowed).
Notes:
– For the main recipes and the soup, you can even prepare them days in advance and then microwave them when needed.
– The only cooking tools you'll need is a large frying pan (I use this), and a wooden spatula.
– When I say "veggies", use as many different veggies as you can. Maybe up to 8 different kinds at a time! The more different veggies you use, the more vitamins you'll get. Keep them al-dente, so not all their vitamins get destroyed in the cooking process.
– Have fish 4-5 times a week for lunch. Wild, low-mercury fish only (e.g. wild salmon, canned sardines) and shellfish (farmed ok, primarily get canned oysters in olive oil ("Crown Prince")).
1. Breakfast
Veggie omelet
Beat 2 eggs, peel and cut into 1 inch cubes 1 white potato, wash and chop in 1″ size veggies you have around (mushrooms, spinach, kale, chard or other greens, onions, broccoli, zucchini, peppers, cherry tomatoes, carrots, cilantro, parsley etc). Fry the potato in some avocado oil on a non-stick pan under medium heat, and stir a few times. When it starts to get golden, add the veggies, and stir fry them too for 3 minutes. Beat the eggs lightly, add salt and pepper in them, lower the heat, and add them to the pan. Make holes for the eggs to cook completely (cover too). Add some feta, goat, or blue cheese on top, and serve immediately with 1/4th raw avocado.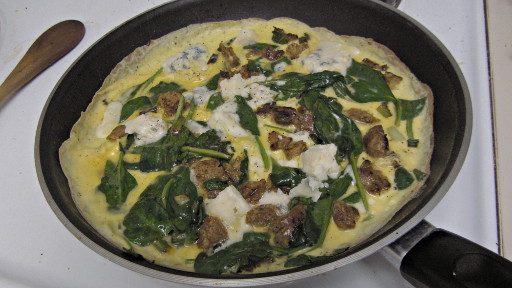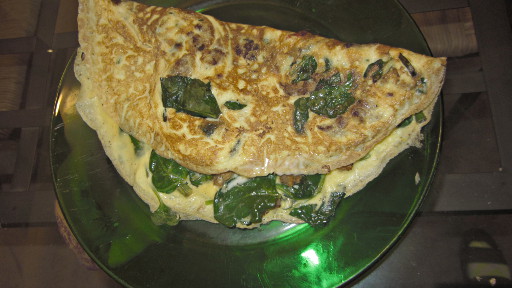 Also, have a smoothie: in a blender (I use this one) add 1 cup of kefir (most potent probiotic of all), frozen fruits of your choice, a handful of raw green veggies, cilantro, cacao, whey protein etc. A good understanding of the basic formula can be seen here. Consider getting all this with 2000 IU of D3 vitamin, and a K2-Mk4 vitamin, 2-3 times a week.
2. Lunch
Stir-fry
Cut up veggies of your choice in small size, some green peas, a bit of garlic, and also cut in thin stripes any meat, offal, shellfish, or wild fish of your choice. If using fish or shellfish, fry separately after you have cooked the veggies (definitely have seafood 3-5 times a week btw). If using meat, offal or shrimp, fry them first in some oil until browned for 1-2 minutes, and then add the veggies. Stir fry everything under high heat for 4-5 minutes until the veggies are al-dente. At the last minute, add 1-2 tbspoons of tamari gluten-free soy sauce. Note: chicken, turkey and pork require more cooking than other types of meat. Fish usually needs less time.
Serve as-is for low carb, or on top of white rice (you can cook it first with some water and set aside, or you can buy microwaveable bags), or with half a (strained and reheated) gluten-free can of beans of your choice (except for soy). Go for 3-2-2 in a week (3 low carb, 2 rice, 2 beans).
Couple that with CoQ10 Ubiquinol (not Ubiquinone), 2-3 times a week, and a fresh fruit.
3. Snack
A small handful of nuts or seeds (except peanuts). Consider getting some sunflower seeds, since they're high in both B1 and E (otherwise impossible to get enough B1 in a gluten-free diet, since B1 is added on flours exactly because most of our foods are devoid of it).
4. Dinner
Hash
Peel and cut up a sweet potato/yam in small cubes (the yellow ones inside are like normal potatoes, the orange ones are sweet, and the purple ones are more starchy). Cut up carrots, zucchini, mushrooms, greens and any other veggies you have around. Add some avocado oil in the pan, cook the potatoes for 2 minutes (cover & stir occasionally), and then add some minced meat of your choice and stir for another 3 minutes. Add the veggies and stir/cook for another 2-3 minutes. Add half a can of chopped tomatoes (or cut up 1 tomato yourself) and add it to the mix. Add salt and pepper, stir occasionally, and cook until most of the juices have evaporated.
Serve with some Greek salad (4 times a week) or a soup (3 times a week).
Greek salad: cut a tomato, some cucumber, some green pepper, a few olives, small pieces of lettuce, sliced onion, some feta cheese. Add extra virgin olive oil, some lemon, oregano, mix, eat!
Soup: Cook covered with 1 cup of water 1 cup of various veggies, cut in cubes. When most of the liquid has evaporated, turn off and remove from the heat. When the veggies are just warm (not hot), pour them in the blender, and add about 1/5th of this bone broth carton (fastest way to get gelatin into your diet is to buy bone broth than to cook it yourself). Blend for a few seconds until smooth, re-heat the whole thing back in the pan, add some salt & pepper, oil or sour cream, and enjoy. You can make a large soup batch and freeze it in small containers too, so you don't have to cook this too often.
Couple that with a yeast-free B-complex, 2-3 times a week that also has folate in it (not just folic acid). Unfortunately, there are only 1-2 brands that are both yeast-free and have folate.
5. 30 minutes before bed
Microwave (or boil in the pan) water with an organic chamomile bag (herbal, no caffeine). You could couple that with some Magnesium vitamins, 2-3 times a week.
Sleep by 9:30 PM (after the sun has set). Wake up early, and either exercise in the morning, or at least walk outside with the first sun, preferably without shoes in some natural environment or a park (not concrete).